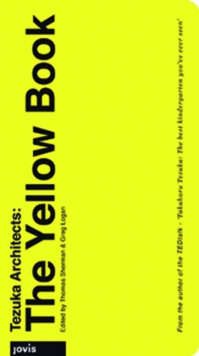 Tezuka Architects: The Yellow Book
Paperback
Description
Following up the wide interest in the wake of Takaharu Tezukas TEDtalk "The best kindergarten you've ever seen" which is among the ten most popular TEDtalks of 2015, this monograph is conceived as the first text-focused publication on Tezuka Architects and provides further introduction to the design philosophy behind the studio's built work.
Envisioned as a "pocket guide" in scale and feel, Tezuka Architects: Yellow Book primarily focuses on the lecture "Beyond Architecture" which Takaharu Tezuka gave in October of 2013 at the Harvard University Graduate School of Design (GSD).
Introducing Tezuka Architects seminal projects spanning the past 12 years, Takaharu explores a trajectory from the Roof House in (2001) up through the recently completed Child Chemo House in (2013).
Touching on the theme of "Nostalgic Future", Tezuka questions our relationship to technology, suggesting that now in the 21st century, technology is so integral to our existence as humans "we don't have to adjust ourselves anymore".Reinforcing Takaharu and Yui's sense that architecture still has the capacity to positively affect humanity, this book illustrates the powerful impact of design and its values on society. Examples such as the Asahi Kindergarten, which was designed to uplift the human spirit in post-Earthquake, Miyagi Prefecture, and the Child Chemo House, which enhanced the visitation and cancer healing process of children and their families - employed these principles.
Information
Format: Paperback
Pages: 158 pages
Publisher: JOVIS Verlag
Publication Date: 01/06/2018
ISBN: 9783868594232
Free Home Delivery
on all orders
Pick up orders
from local bookshops