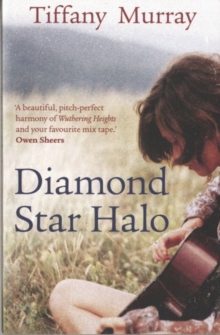 Diamond Star Halo
Paperback
Description
Growing up in a rural recording studio, Halo Llewellyn is rarely star-struck, but when one of the visiting singers gives birth to Fred, she knows right away that he's special.As the golden child grows into the gilded man, she remains dazzled by his ambition and his talent.Up on stage, being screamed at by hundreds of teenage girls, Fred will always turn his spotlight on Halo in the crowd.
But that's the problem with falling in love with your charismatic almost-brother - it can never be a secret.
In the end, the whole world has to know.
Information
Format: Paperback
Pages: 400 pages
Publisher: Granta Books
Publication Date: 22/01/2011
ISBN: 9781846272080
Free Home Delivery
on all orders
Pick up orders
from local bookshops
Reviews
Showing 1 - 1 of 1 reviews.
Review by sanddancer
16/06/2015
 This was another book I picked up in Kindle's Daily Deal. I wasn't too sure about it but the music element to it persuaded me - and afterall it only cost 99p so not a huge gamble! It is about a family who run a music studio in rural Wales, that is used by a steady stream of rock stars over the years. It begins in the 1970s when the middle child, Halo or Lo-Lo befriends the young female singer from an American band that otherwise consists of seven brothers. The singer, Jenny, is heavily pregnant with Halo's gran predicting that the baby will be born there. Turns out the gran is right and for reasons I won't spoil here, baby Fred is taken in by Halo's family and grows up as their brother. The story moves from the 1970s, through their childhood and teenager years until near enough present day when they are adults.I have mixed feelings about this book. My main issue with it was that I felt very uncomfortable with the sexualisation of a child in Fred. From birth he is described as being like Heathcliff, the older Halo has feelings for him that are sexual from an early age and he is described in a very sexual way at the age of eight. Now I don't have children myself and am from a family that is dominated by females, so I have very little experience of 8 year old boys, but it didn't sit right with me. My other gripe was Halo - who was another one of these too good to be true female characters, totally self-sacrificing for her family and seemingly so beautiful herself that people are equally obsessed with her, yet she doesn't notice it - she reminded me a bit of the 50 Shades of Grey heroine! She was by far the least interesting person in the whole story.But just as I was considering giving up on it, I was won back over. Halo's mother suffers from depression throughout the book, but later she becomes physically ill and this is where Tiffany Murray showed herself to be an excellent writer. Her own mother, Minny, comes to visit - a tough little woman with a ascerbic tongue about the rest of the family, but so tender with her daughter that it was heartbreaking. So what was the saddest part of the book, was for me by far the best part. Putting aside dubious relationships with foundling children and rock stars, Tiffany Murray can write about complex real family relationships.