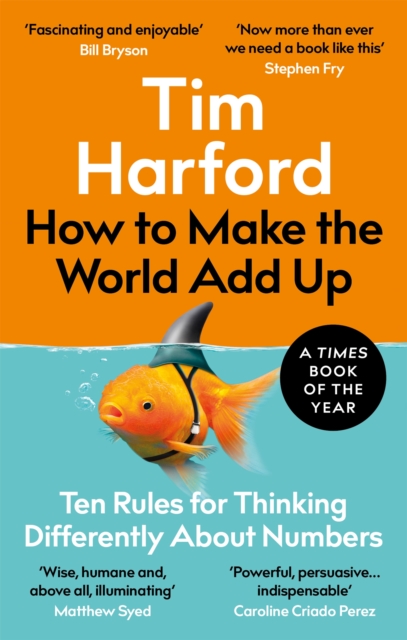 How to Make the World Add Up : Ten Rules for Thinking Differently About Numbers
Paperback / softback
Description
The Sunday Times Bestseller'Tim Harford is one of my favourite writers in the world.
His storytelling is gripping but never overdone, his intellectual honesty is rare and inspiring, and his ability to make complex things simple - but not simplistic - is exceptional.
How to Make the World Add Up is another one of his gems.
If you're looking for an addictive pageturner that will make you smarter, this is your book' Rutger Bregman, author of Humankind'Tim Harford could well be Britain's Malcolm Gladwell'Alex Bellos, author of Alex's Adventures in Numberland'If you aren't in love with stats before reading this book, you will be by the time you're done.
Powerful, persuasive, and in these truth-defying times, indispensable'Caroline Criado Perez, author of Invisible Women In How to Make the World Add Up, Tim Harford draws on his experience as both an economist and presenter of the BBC's radio show 'More or Less' to take us deep into the world of disinformation and obfuscation, bad research and misplaced motivation to find those priceless jewels of data and analysis that make communicating with numbers so rewarding.
Through vivid storytelling he reveals how we can evaluate the claims that surround us with confidence, curiosity and a healthy level of scepticism.
It is a must-read for anyone who cares about understanding the world around them. 'Tim Harford is our most likeable champion of reason and rigour . . . clear, clever and always highly readable'The Times, Books of the Year'Fascinating and enjoyable'Bill Bryson'Now more than ever we need a book like this'Stephen Fry'Wise, humane and, above all, illuminating.
Nobody is better on statistics and numbers - and how to make sense of them'Matthew Syed'One of the most wonderful collections of stories that I have read in a long time . . . fascinating.'Steven Levitt, co-author of Freakonomics'Wise and useful . . . such a delight' Financial Times'What should we do when someone makes a claim that they say is based on data?
This wise book, distilled from years of experience, gives us the ten commandments, from first examining our feelings, to finally having the humility to admit we may be wrong.
Priceless'Professor Sir David Spiegelhalter
Information
Format:Paperback / softback
Pages:352 pages
Publisher:Little, Brown Book Group
Publication Date:06/05/2021
Category:
ISBN:9780349143866
Information
Format:Paperback / softback
Pages:352 pages
Publisher:Little, Brown Book Group
Publication Date:06/05/2021
Category:
ISBN:9780349143866