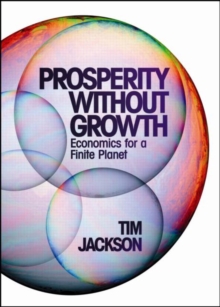 Prosperity without Growth : Economics for a Finite Planet
Hardback
Description
Is more economic growth the solution? Will it deliver prosperity and well-being for a global population projected to reach nine billion?
In this explosive book, Tim Jackson - a top sustainability adviser to the UK government - makes a compelling case against continued economic growth in developed nations. No one denies that development is essential for poorer nations.
But in the advanced economies there is mounting evidence that ever-increasing consumption adds little to human happiness and may even impede it.
More urgently, it is now clear that the ecosystems that sustain our economies are collapsing under the impacts of rising consumption.
Unless we can radically lower the environmental impact of economic activity - and there is no evidence to suggest that we can - we will have to devise a path to prosperity that does not rely on continued growth.
Economic heresy? Or an opportunity to improve the sources of well-being, creativity and lasting prosperity that lie outside the realm of the market?
Tim Jackson provides a credible vision of how human society can flourish i'1/2 within the ecological limits of a finite planet. Fulfilling this vision is simply the most urgent task of our times. This book is a substantially revised and updated version of Jackson's controversial study for the Sustainable Development Commission, an advisory body to the UK Government.
The study rapidly became the most downloaded report in the Commission's nine year history when it was launched earlier this year.
Information
Format: Hardback
Pages: 288 pages, Maps, figures, tables, graphs, bibliography, index
Publisher: Taylor & Francis Ltd
Publication Date: 16/10/2009
Category: Economic growth
ISBN: 9781844078943
Other Formats
PDF from £10.79
EPUB from £10.79
Free Home Delivery
on all orders
Pick up orders
from local bookshops
Reviews
Showing 1 - 1 of 1 reviews.
Review by JanetinLondon
16/06/2015
This book discusses the key economic issue of our time – how to ensure continued prosperity while reducing our use of the world's resources to a sustainable level.Jackson defines prosperity as the ability to take part fully in the society around you – not only enough to eat, but enough to eat with friends occasionally, to give them presents, to send your children to school, generally to feel you are "keeping up". Below a certain level of prosperity – and much of the world is clearly still below it – it is obvious that the traditional approach of "growth" is still necessary. People simply need more things - food, clothing, books, bicycles – in order to thrive and prosper. In the more economically developed parts of the world, though, this is no longer true for most people. Yet we continue to increase our material output.We all know the world cannot continue to support this level of material lifestyle, and certainly not to the extent that every single person in the world could share it. Jackson spends some time going through the evidence – how long it will be before various raw materials and natural resources are completely depleted. The problem is, arguing that we should just "stop having more stuff" isn't as simple as it looks. If we all stop buying cars, who will employ all those car workers and feed their families?Jackson argues that governments must invest in and support activities that use fewer materials, replenish resources, or shift wealth to poorer countries. Green technologies, habitat protection, personal service industries, educational charities and local farmers' markets are all good examples. While individual initiatives already exist, and are growing, he makes the case that this is not enough, and much more public support is needed.I imagine there are lots of books on this topic, and this might not be the best one for someone who wants to know what to do but doesn't want to wade through the economic arguments, but I thought it was pretty good. His evidence is strong and his argument is clear. Reading this book left me both excited - this could happen - and depressed - this will never happen.