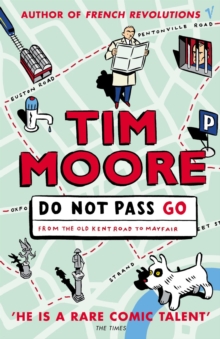 Description
A book that tells the story of London since the thirties through the 28 streets, stations and utililties of the Monopoly board.
In the wonderful world of Monopoly it still only cost -50 to buy a house in Islington, you can move around London with the shake of a dice and even park your car for free.
In Do Not Pass Go Tim Moore, belying his reputation as a player who always paid that -10 fine rather than take a Chance, fearlessly tackles the real thing and along the way tells the story of a game and the city that frames it.
Sampling the rags and the riches he stays in a hotel in Mayfair and one in the Old Kent Road, enjoys quality time with Dr Crippen in Pentonville Prison and even winds up at the wrong end of the Water Works pipe. And, solving all the mysteries you'll have pondered whilst languishing in jail and many other you certainly wouldn't, Tim Moore reveals how Pall Mall got its name, which three addresses you won't find in your A-Z and why the sorry cul-de-sac that is Vine Street has a special place in the heart of Britain's most successful Monopoly champion.
The stirring travelogue of one man's erratic progress around those 28 streets, stations and utilities, Do Not Pass Go is also an epic and lovingly researched history of London's wayward progress in the 66 years since the launch of the world's most popular board game
Information
Format: Paperback
Pages: 352 pages
Publisher: Vintage Publishing
Publication Date: 02/10/2003
Category: Travel writing
ISBN: 9780099433866
Free Home Delivery
on all orders
Pick up orders
from local bookshops
Reviews
Showing 1 - 5 of 5 reviews.
Review by uryjm
16/06/2015
Sometimes I feel that many travel writers look at Bill Bryson and think that maybe if they could sell half as many as he does, they'd be damn happy with their lot. So why not try and do a similar take? Enter Tim Moore. To be fair, Moore does have some original ideas for his tours and this is a cracker, touring the London of the Monopoly Board. Why didn't I think of that?! It allows him to dig up some off-beat facts, but I couldn't help but think that I could too with a broadband connection and enough time to spare.
Review by LittleRach
16/06/2015
An interesting travel around the places on the Monopoly board. Lots of interesting facts, some less interesting ones. I quite enjoyed it, but I think I would have enjoyed it more if I knew London better. I've never lived in London, and have only really visited for work, so my knowledge is pretty limited. If I could have pictured more of the places he visited, I would probably have found it more interesting.
Review by MiaCulpa
27/01/2016
Growing up in Australia my knowledge of London was all-but restricted to the Monopoly board. Thus, I knew that Mayfair and Park Lane were out of my price range if I ever moved to London, I learnt how to pronounce "Pall Mall", I knew to avoid Old Kent Road and above all I wondered what on earth "The Angel, Islingdon" was (spoiler alert; it's a building that currently hosts a pub and bank).If "Don't Pass Go" was around in the late seventies/early eighties it would have saved a lot of wondering on my behalf. Moore does a bang-up job filling in our knowledge of each of the Monopoly, giving context as to why a particular street or location was chosen and supplying the odd dab of self-depreciating humour to keep it rolling.Of course, when I finally got to London a few decades after first encountering it on the Monopoly board, it didn't seem to have the same magic that the board game instilled in me. That's not Moore's fault though.
Review by GeoffSC
16/06/2015
This book outlines the history of the Monopoly board game takes you on a fascinating tour of London via the Monopoly board locations. It is creatively written in a lighthearted manner. It delves into interesting history behind all the M board squares. A bit crude in places, but a good entertaining read. I always thought the London based board was the original, how wrong you can be.
Review by nandadevi
27/08/2015
Moore has a great affection for Monopoly, but very little for many of the gaucheries of modern London, or for the pomposity of Governments or Industry (including it might be added Hasbro, the modern licensee of Monopoly). What could be a dry account is enlivened not just by Moore's disinclination to suppress saying what he feels at any point in time (and a lot of it is about local UK politics and culture), but also by his boldness at inserting himself into situations that wiser cooler heads might have avoided. But having a quest does that to a person, gives them courage - and a reason - to plod on and tackle the many obstacles on his path to discovering not just the history, but also the character, of all of the locations mirrored in the UK version of the Monopoly Game board. It's painless history, and a fillip for anyone with a Monopoly obsession, but mostly it's just a well written, easy reading, guide to parts of London that you might add to your itinary if ever you're passing that way.