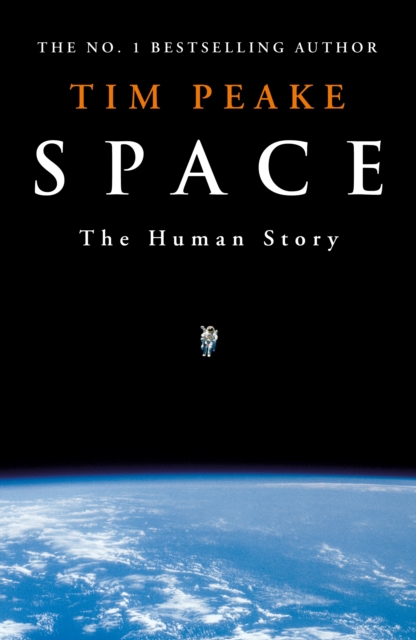 Space : A thrilling human history by Britain's beloved astronaut Tim Peake
Hardback
Description
*OUT NOW* From bestselling author and British astronaut Tim Peake, an inspirational human history of space travel, from the Apollo missions to our future forays to Mars.
The Right Stuff for a new generation. 'This book is brilliant - once in a blue moon. A book for the whole family.' Chris Evans, Virgin Radio'An extraordinary book.
For anyone - even if you're not interested in Space.
If you're interested in human stories and the human character - this is delightful.' BBC Breakfast'A fascinating, detailed, playful book drawn from extensive research – Peake met seven Apollo astronauts, Russian cosmonauts and various other space technicians – as well as his considerable personal experience.
Lifts the lid on what space is like: the dedication and sacrifice; the politics and pantomime; the practicalities and the peril; the glory and fame; the adjustment back to normal life.' iPaper'A thrilling human history of space' Daily Mirror'The bible of space travel' Chris Moyles, Radio XAs seen in the major TV series Secrets of Our Universe with Tim Peake. Only 628 people in human history have left Earth. This is their story. Astronaut Tim Peake traces the lives of the remarkable men and women who have forged the way for humanity beyond Earth, from Yuri Gagarin to Neil Armstrong, from Valentina Tereshkova to Peggy Whitson. Full of fascinating insight into our greatest pioneers and unsung heroes, and astonishing detail only an astronaut would know, Peake's book is the first of its kind to chronicle the human evolution of space exploration over sixty years, from our first forays to now.
In the process, Peake reveals what spaceflight is really like: the wondrous view of Earth, the surreal weightlessness, the extraordinary danger, the surprising humdrum, the unexpected humour, the new-found perspective, the years of training, the psychological pressures, the gruelling physical toll, the thrill of launch and the trepidation of re-entry. In the next few years, NASA will send the first woman and the first person of colour to step on the lunar surface.
What will separate these upcoming moonwalkers from the legendary Apollo crews?
Does it still take a derring-do attitude, super-human fitness, intelligence, plus 'the right stuff' - a fabled grace under pressure? And how will astronauts travel even further - to Mars and beyond?Space: The Human Story reveals all. 'Space enthusiasts will snap up Peake's compelling book in their droves, but his account of courage, camaraderie and the determination to go where few have gone before deserves to be read by a much wider audience too' – Daily Express
Information
Format:Hardback
Pages:336 pages
Publisher:Cornerstone
Publication Date:26/10/2023
Category:
ISBN:9781529913507
Other Formats
EPUB from £9.99
eAudiobook MP3 from £9.34
Information
Format:Hardback
Pages:336 pages
Publisher:Cornerstone
Publication Date:26/10/2023
Category:
ISBN:9781529913507