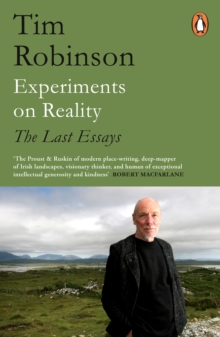 Experiments on Reality : The Last Essays
Paperback / softback
Description
Long recognized as perhaps the greatest non-fiction writer at work in Ireland, for his vast, polymathic accounts of nature and culture in the Aran Islands and Connemara, Tim Robinson is also an essayist of genius whose fascinations range across the globe.
In Experiments on Reality, he shines the light of his intelligence on his own life, and on some of the most fascinating questions in science and culture.
Robinson brings us to his boyhood in Yorkshire, National Service in Malaya in the 1950s, and his years as a visual artist in Istanbul, Vienna and London.
He revisits some of the scenes of his researches for the maps he made of Aran and Connemara, places that continue to throw up remarkable stories and puzzles. And he performs astonishing literary thought-experiments, playing with the boundaries of the essay form, scientific inquiry, and storytelling.
Experiments on Reality is a masterpiece from one of the great minds of our time. 'One of the greatest of all landscape writers ... When the material world is brought forth for us so beautifully, with such rapt attention and illuminating insight, we are reminded of how lucky we are to be part of it' Fintan O'Toole, Irish TimesPRAISE FOR THE CONNEMARA TRILOGY:'One of the most remarkable non-fiction projects undertaken in English' Robert MacFarlane, Spectator'Robinson is a marvel ... the supreme practitioner of geo-graphy, the writing of places' Fintan O'Toole, Observer Books of the Year'One of contemporary Ireland's finest literary stylists ...
This is a book that does justice, in every sense of that phrase, to the frequently betrayed people whose stories it incarnates, and to their strange and beautiful corner of the world' Joseph O'Connor, Guardian'A masterpiece of travel and topographical writing and a miraculous, vivid and engrossing meditation on landscape and history and the sacred mood of places' Colm Toibin, Irish Times Books of the Year'One of the finest of contemporary prose stylists' John Burnside, Irish Times'He is that rarest of phenomena, a scientist and an artist, and his method is to combine scientific rigour with artistic reverie in a seamless blend that both informs and delights.' John Banville, Guardian'Breathtaking ... the West of Ireland has found its ultimate laureate' Patricia Craig, TLS'Dazzling ... an indubitable classic' Giles Foden, Conde Nast Traveller
Information
Format:Paperback / softback
Pages:208 pages
Publisher:Penguin Books Ltd
Publication Date:13/08/2020
Category:
ISBN:9780241987292