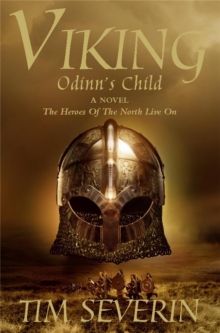 Odinn's Child
Paperback
Part of the Viking series
Description
Odinn's Child by Tim Severin is the stunning first volume in the captivating Viking trilogy - an epic historical adventure in a world full of Norse mythology and bloodthirsty battles.Our story begins in the year 1001 and the toddler, Thorgils Leiffson, son of Leif the Lucky and Thorgunna, arrives on the shores of Brattahlid in Greenland to be brought up in the foster care of a young woman - Gudrid.
Thorgils is a rootless character of quicksilver intelligence and adaptability.
He has inherited his mother's ability of second sight and his destiny lies beyond the imagination of those around him.
Virtually orphaned, he is raised by various mentors, who teach him the ancient ways and warn him of the invasion of the `White Christ' into the land of the `Old Gods'.
Thorgils is guided by a restless quest for adventure and the wanderlust of his favoured god, Odinn.
His fortunes take him into many dangerous situations as well as to the brink of death by execution, in battle, disease and shipwreck . . .
Information
Format: Paperback
Pages: 352 pages
Publisher: Pan Macmillan
Publication Date: 01/07/2005
Category: Historical fiction
ISBN: 9780330426732
Free Home Delivery
on all orders
Pick up orders
from local bookshops
Reviews
Showing 1 - 5 of 6 reviews.
Previous | Next
Review by juliayoung
16/06/2015
The main character of Viking: Odinn's Child, Thorgils Leifsson, is quite the tabula rasa. Through his travels (which are rarely planned), he learns widely and deeply about religion and life.Tim Severin has written a well-researched historical novel. I can't wait to read the other two in the series.
Review by BruderBane
16/06/2015
While covering a genre that is both interesting and exciting Tim Severin's "Viking: Odinn's Child" fails to capture this reader's heart. Mr. Severin's hero -Thorgils- travels the outer rim of Norse expansion from far off Vinland to eleventh century Ireland, shifting from one desperate frying pan to another and making his bare escapes by the skin of his teeth. Although Mr. Severin brings to the fore new and exciting characters and places with gratifying historical accuracy, he does not capture –for this reader- the emotional investment and the purulent experiences one would have experienced. The added mysticism while interesting detracted from the historical accuracy of the story. What truly interested me was Thorgils' time with Eochaid, a character I found entrancing and I wish Mr. Severin would've delved more thoroughly into the life of this brithem. In any case, this novel would have garnered three and a half stars if it weren't for the sloppy editing. These lapses became especially virulent towards the latter half of the book and truly detracted from the text.
Review by Zare
16/06/2015
"Odinn's Child" is the first in trilogy of books about life of Thorgils Leiffson. Unlike Bernard Cornwells Saxon series novels, this book can't stand on its own - it ends when reader expects true action to begin.Thorgils, orphan, is moving from one family to another and during his early years he comes in contact with old beliefs of Norsemen, encounters Skrelings (North American natives), lives with Irish druids, sails through treacherous northern seas, visits Iceland, Grenland, Vinland and Ireland.Story is never boring - there is always something going on. But again it ends up when it gets most interesting - when Thorgils escapes from Ireland and goes back to Iceland. Book should be treated as a sort of a introduction to Norsemen culture at the time and Thorgils' character.I am looking forward to "Sworn brothers" and "King's man".
Review by kalyka
16/06/2015
Set at the very beginning of the last millenium, where Vikings ruled the Northern Seas, we find Thorgils, son of Leif Erikson and a mysterious Irishwoman named Thorgunna. Orphaned at a young age, he is raised by various mentors in Iceland, who teach him the ways of old, and warn him of the invasion of the "White Christ", as Christianity is slowly, but surely advancing to the North. Still as a child, he travels to Greenland, and onwards to Vinland, now a historical site in Newfoundland. There he witnesses a massacre which wipes out the entire settlement, and is forced to return to Iceland, only to be caught up in a violent family feud. He then sets foot in Ireland, only to get into yet more trouble: he becomes a prisoner of war and sold as a slave.The first of a trilogy, the novel is written as if it were an autobiography; as such, an old man is writing it from an Irish monastery. However, despite all the best intentions, it falls spectacularly flat. While Norse society of the time is well described, and I particularly enjoyed the rivalry between paganism and Christianity, it all feels very unidimensional. At one point, the narrator and protagonist describes his (supposedly) most profound romantic relationship in only a few pages, and never mentions it further on.The supporting characters are very hard to get attached to, since they virtually have no personality, despite being essential to Thorgils' development. Events are depicted as mere facts, without much structure, as if the book were a quilt rather than a story. However, the interweaving of Norse, Irish and Christian mythology was rather interesting, as they all clash and, at the same time, interact beautifully with each other. It was amusing to see what the Vikings, the Celts and the Christians thought of each other, right when a religious shift was actually happening.Regrettably, the pace never really picks up, much less reach a peak, which made it very difficult to become engrossed in, especially when it ends where you would expect action. The narrator basically leaves you hanging there, wanting more...yet not. And at barely more than 300 pages long, little description of locations and events is given, and the vocabulary is very modern for one who is writing about his life in the 11th century. I tried to like it, I really did. Before reading the book, I fully expected to read the second, and then the third. Unfortunately, Tim Severin's first fictional novel didn't pass the test.2.5/5
Review by Moriquen
16/06/2015
I am a little devided when it comes to this book. The beginning I found to be very slow and repetitive. Thorgills descriptions of Vinland seem to be all the same. The stories he tells aren't that exciting and the characters that are protrayed in the book all seem to miss a certain amount of depth to make them believable.The book really started accumulating some more 'narrative speed' after Thorgills description of the battle only to fall flat again when he flees from the monastery and meets Eochaid.I don't know what to make of it. I am curious to find out how defender of the Old Ways Thorgills ends up as the White Christ monk Thangbrand in the beginning of the narrative, but I am hoping that the sequel to this book (Sworn Brothers) is much better, or I won't even bother to read the last part of the viking trilogy!