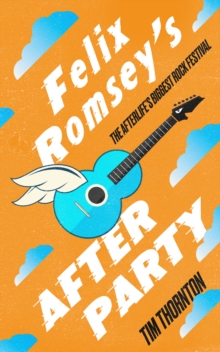 Felix Romsey's Afterparty
Paperback / softback
Description
Felix Romsey's Afterparty is a rock festival with a big difference.
Put it this way: this year's lineup includes Elliott Smith, Minnie Riperton, Serge Gainsbourg, Kurt Cobain, Whitney Houston, Michael Hutchence and, making only his second live appearance since his death: John Lennon.
It's the Glastonbury of the Afterlife; the place where dearly departed music fans can let off steam to the sounds that soundtracked their lives, and where late rock stars can be rock stars again.
Flamboyant, acerbic promoter Felix Romsey and his amiable assistant Adrian "Podge" Jones frantically ride the anticipation among the capacity crowd and a backstage area chockful of celebs; with the stakes this high, they'd be anxious even if everything were running smoothly. But lately, things have most definitely NOT been running smoothly.
The recently-arrived David Bowie has been snagged by a rival promoter, and Felix has reason to believe that a plot to oust him as the Afterlife's preeminent rock impresario is afoot. And when headliner John Lennon, just as he's drawing breath to sing his first note onstage, vanishes - no, I mean really vanishes - Felix and Podge have no choice but to find out who's behind the sabotage, and to try and rescue their star attraction - and their festival's reputation - before it's too late.
Early in their search they run into the inscrutable Jane Brown, who at first encounter seems little more than a Lennon superfan, but proves to be invaluable, introducing Felix and Podge to the chilling possibility that their quarry mightn't be up here, but in fact, down there... Felix Romsey's Afterparty is a novel for anyone who's ever heard the cliche "the great rock festival in the sky" and spent a few fleeting moments wondering what said celestial festival - and indeed, the reality it inhabits - might really be like
Information
Format: Paperback / softback
Pages: 304 pages
Publisher: Unbound
Publication Date: 14/06/2018
ISBN: 9781912618521
Free Home Delivery
on all orders
Pick up orders
from local bookshops