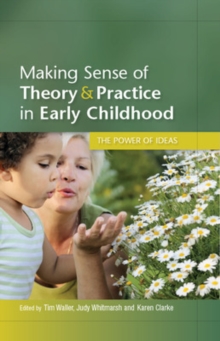 Making Sense of Theory and Practice in Early Childhood: The Power of Ideas
Paperback / softback
Description
This accessible book demystifies the links between theory and practice for those studying in the field of early childhood.
The book encourages those new to research to develop their investigations as straightforward narrative accounts of the phenomenon that they are investigating. Throughout the book the authors demonstrate the influence of theoretical perspectives on their own practice and research.
They articulate how this adds depth to their studies by linking into wider and more enduring themes. The book is divided into two parts; part one looks at 'Community, interaction and identity' and addresses several different aspects of social constructivist theory.
Each author explores, less familiar, but increasingly influential ideas emanating from Vygotskian theory. Part two explores 'Structure, power and knowledge' which includes a wider range of theoretical perspectives, that tell a more 'critical' story about how the way society is structured, influences power, institutions and individuals.
These theories help the authors to describe how working practices serve some groups and disadvantage others. Each chapter includes:Theoretical concepts, which are related to practice and / or research Case studies Examples from research practice enabling readers to explore the practical application of the 'big ideas' Further reading appropriate to the theoretical constructThis book is essential reading for undergraduate students and trainee teachers. Contributors: Tony Bertram, Angeliki Bitou, Liz Brooker, Sue Fawson, Rohan Jowallah, Maggie Leese, Martin Needham, Jane O'Connor, Chris Pascal, Lynn Richards, Faye Stanley, Jo Winwood, Gill Woods, Jenny Worsley - all at University of Wolverhampton except Liz Brooker, who is at the Institute of Education in London.
Information
Format:Paperback / softback
Pages:192 pages
Publisher:Open University Press
Publication Date:16/03/2011
Category:
ISBN:9780335242467