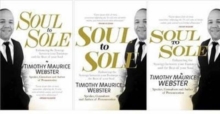 Soul 2 sole
Paperback / softback
Description
At the core of every human being is the voice of the soul.
This voice longs to live in our daily walk or the sole.
Soul 2 sole tackles the journey and believes that by asking better questions and ultimately bridging this gap, the individual leader and influencer can live more effectively and make a larger difference in his/her life and the lives of their community.
Soul 2 sole is about your footsteps and your soul moving to the same beat.
With this book, Webster asks this essential question: Is it possible to align the Soul to the sole?
Is there a movement away from conspicuous consumerism, towards a more holistic lifestyle where the pursuit of authenticity is desired? Or perhaps we should be attempting to marry modernity, technology and a new definition of what it means to live authentically, because the old definition suggests we walk barefoot, put away our phones and forgo chatting in favour of living in the spiritual moment?
For your soul to find its way into the sole of your feet, the machine we know to be the brain must be acknowledged as both an enabler and a hurdle. The brain or the biological bridge between the soul/sole evolves and shifts over time; and science has now shown that we know far too little about elements of the brain, both consciously and unconsciously, to suggest any of us have full control over our authenticity.
Both the soul and the sole have unique identities, completely separate from each other, and the key to understanding authenticity is to view them both in isolation as well as fused together.
This book investigates the history, thinking, sociological obstacles and the neuroscience of crossing this complicated bridge to authenticity.
Information
Format: Paperback / softback
Pages: 180 pages
Publisher: Jacana Media (Pty) Ltd
Publication Date: 01/04/2013
Category: Popular psychology
ISBN: 9781920292195
Also by Timothy Maurice Webster