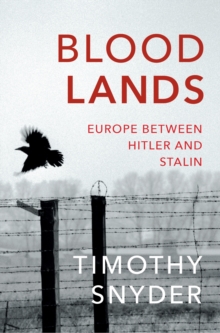 Description
Under Hitler and Stalin the Nazi and Soviet regimes murdered fourteen million people in the bloodlands between Berlin and Moscow.
The killing fields extended from central Polads to western Russia.
For twelve savage years, on this bloodsoaked soil an average of one million individuals - mostly women, children and the aged - were murdered every year.
Though in 1939 these lands became battlefields, not one of these fourteen million was killed in combat.
They were victims of a murderous policy, not casualties of war.
In this deeply unsettling and revelatory book, Timothy Snyder gives voice to the testimony of the victims through the letters home, the notes flung from trains, the diaries on corpses.
It is a brilliantly researched, profoundly humane and authoritative book that demands we pay attention to those that history is in danger of forgetting.
Information
Format: Paperback
Pages: 544 pages
Publisher: Vintage Publishing
Publication Date: 01/09/2011
Category: European history
ISBN: 9780099551799
Other Formats
EPUB from £6.99
eAudiobook MP3 from £23.48
Free Home Delivery
on all orders
Pick up orders
from local bookshops
Reviews
Showing 1 - 3 of 3 reviews.
Review by fist
27/08/2015
In spite of the abundant WWII literature and movies, we only have a partial understanding of things since the first half of the 20th century is still too often viewed through Western European eyes only. Without wanting to minimise what happened in the Western half of the continent, the atrocities in Eastern Europe belonged to a wholly different order of magnitude. The author concentrates on this part of Europe that found itself between two totalitarian states - with tens of millions of civilian victims as a result. He makes the counterintuitive and chilling case how Hitler and Stalin, though political opponents, were often strategic allies in obliterating the population of these bloodlands. The consequences reverberate to this day, both in the physical landscape of the ruined cities, the silence of its lost population and in the geopolitical tensions in countries like Poland and Ukraine.
Review by mnicol
16/06/2015
The bloodlands are the regions between Moscow and Berlin that were subject to BOTH Soviet and Nazi control at some time between 1933 and 1945. 14 million people were murdered in this short period, in this relatively confined area, by active policies of mass killing - besides the deaths of soldiers in battles. Stalin's policies to kill kulaks and minorities had their greatest impact in the Ukraine/Poland, where the Germans killed so many Jews after 1941. The victims are the main story, illustrated in human stories and overwhelming statistics, but Snyder points out "The moral danger, after all, is never that one might become a victim but that one might be a perpetrator or bystander" (p.400). This is a brilliant study.
Review by RidgewayGirl
16/06/2015
In <i>Bloodlands: Europe Between Hitler and Stalin</i> Timothy Snyder looks at those lands that were occupied by both the Nazis and the Soviets, and how it impacted those places. He also, more importantly, seeks to both show how mass murder occurred and to make those horrifyingly large numbers represent real people. From the Baltic states, through eastern Poland, Belarus, the western edge of Russia and especially Ukraine, Snyder shows how these lands contained the vast majority of civilian deaths in the twelve years between 1933 to 1945. Beginning with Stalin's Great Famine in the Ukraine, in which 3.3 people died, and continuing through final acts of ethnic cleansing that turned diverse and vibrant populations homogeneous, Snyder seeks to humanize the statistics, to explain the motivations of the perpetrators and to return to the dead the stories of their lives. He is too successful for this book to be easy reading. <i>People were perhaps alike in dying and in death, but each of them was different until that final moment, each had different preoccupations and presentiments until all was clear and all was black.</i>Snyder looks at why both Stalin and Hitler found it necessary to slaughter so many civilians, most who posed no political threat, many of whom were children. He's interested in the motivations of the guards, the policemen holding the guns, the soldiers obeying orders. He's also interested in the lives of those who died and the reasons for those deaths. <i>Only there in the ditch were these people reduced to nothing, or to their number, which was 33,761.</i>I took copious notes while reading this book, to absorb more of what I was learning, but also as a buffer against that relentless stream of information. Snyder writes well, has clearly done extensive research and has a passion for his subject. He wants the reader to be informed of the events of the past, the motivations and reasons, but most of all, he wants the reader to see each death as an individual story cut short.