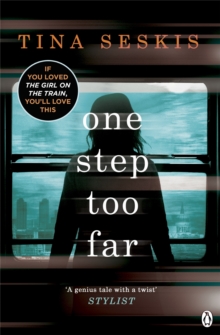 One Step Too Far
Paperback
Description
Tina Seskis's stunning debut novel, One Step Too Far, is a gripping and haunting psychological thriller. An apparently happy marriage. A beautiful son. A lovely home. So what makes Emily Coleman get up one morning and walk right out of her life?
How will she survive? And what is the date that looms, threatening to force her to confront her past? No-one has ever guessed her secret. Will you? If you love The Girl on the Train we promise that you will love One Step Too Far, an absolutely unputdownable story of secrets and heartbreak.
Praise for One Step Too Far 'Taut, compelling...a storming read' The Bookseller Books of the Year 2013 'A genius tale with a twist' Stylist magazine 'A gripping thriller that will delight fans of the unexpected twist ending' Grazia 'Intriguing...dreamily tense...a really absorbing read' USA Today 'Seskis expertly depicts the new life of a runaway wife, Emily Coleman...a diverting read' Publishers Weekly 'A haunting psychological thriller...believable yet shocking with a great twist, this is well worth a read' The Sun 'A whip-smart thriller that keeps you guessing right up until the final shocking twist' Mirror 'On occasion, haven't we all wanted to ditch our responsibilities, change our name and run off into a new life?Emily (or is it Catherine?) takes the plunge in this smartly written thriller' Time Out 'A skilfully done novel by a writer to watch' Booklist 'A compelling roller-coaster of a story with a shocking twist' Lovereading.co.uk 'Funny, entertaining , warm and human' Christian, globaljunkie.net 'A cleverly written story, one that keeps you guessing the outcome right to the very end' fordsthoughts.co 'A cleverly written story, one that keeps you guessing the outcome right to the very end' fordsthoughts.co 'This book will likely be the talk of summer beach read ...it has all of the right ingredients...suspense, drama, and plot twists extraordinaire' booksandgamesandmoreohmy.blogspot.co.uk 'Amazing...if you usually read showbiz, celebrity 'girlie' novels, this is the perfect crossover into thriller territory' scarlettlondon.com 'The twist in the tale is one of the best I've read, I literally gasped as I didn't see it coming at all' cleopatralovesbooks.wordpress.com 'I was stunned...I found myself saying, "Well done, Ms. Seskis, well done." 'abookaddictsmusings.blogspot.co.uk 'Be prepared ...One Step Too Far is a fantastic mystery, keeping you hooked throughout' bertass-reviews-anything. blogspot.co.uk "Tina Seskis is the new master of suspense fun-lit' theopenreader.net 'Emily's secret keeps the pages' turning, compulsively and obsessively, to the very end...Emily's quest to start afresh is both extraordinary and heart-breaking' sisimka.wordpress.com 'This book has everything: twists and turns, twins - good and evil, jealousy, pregnancies, adultery and above all, a delicious mystery' reflectionswithcoffee.com
Information
Format: Paperback
Pages: 400 pages
Publisher: Penguin Books Ltd
Publication Date: 24/04/2014
Category: Thriller / suspense
ISBN: 9781405917933
Other Formats
EPUB from £3.99
eAudiobook MP3 from £8.00
Free Home Delivery
on all orders
Pick up orders
from local bookshops
Reviews
Showing 1 - 2 of 2 reviews.
Review by sianpr
16/06/2015
Page turner of a book & great summer read. Seskis is an excellent story teller although the last part of the book the tragedies are laid on with a trowel and there's a lot of emphasis on tying up all the ends. Nonetheless, good plotting and writing.
Review by Randall.Hansen
16/06/2015
This books is NOT a thriller, not suspense fiction... it is NOT mesmerizing... these are the words the jacket uses to describe the story of a woman who finds herself in a loveless marriage and decides to move away to London and reinvent herself. The problem is the main character, Emily/Cat, is not likable. The story is long, poorly told, and weakly written. Perhaps if it was marketed as a slice-of-life or simply as a story of a woman in trouble, it might have worked better for me. I found it boring and meandering, and a bit all too convenient. There are NO twists, thrills, or real mysteries. Kept waiting for a twist at the end, but it is all too predictable.