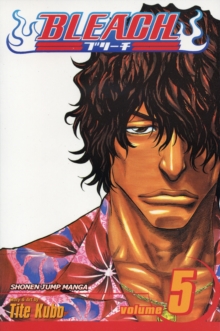 Bleach, Vol. 5 : Right Arm of the Giant
Paperback
Part of the Bleach series
Description
Ichigo Kurosaki thought that Soul Reapers were the only ones hunting Hollows, but he was wrong.
Enter Uryu Ishida, a Quincy, and possibly the last member of a powerful clan that died out over 200 years ago.
Unlike Soul Reapers who strive to cleanse Hollows of their sins and send them to the Soul Society, Quincys adopt a more direct approach - they kill Hollows without hesitation.
To demonstrate the supremacy of the Quincys' ways, Uryu challenges Ichigo to a contest - bait is spread around the city, attracting a large number of unstable Hollows.
Whoever defeats the most wins, regardless of the danger.
Also, Orihime and Chad, confronted with a host of Hollows terrorizing their friends, awaken to their own psychic abilities.
Who is the strongest? Find this out and more in the action-packed fifth volume of Tite Kubo's Bleach!
Information
Format: Paperback
Pages: 192 pages
Publisher: Viz Media, Subs. of Shogakukan Inc
Publication Date: 01/01/2005
Category: Manga
ISBN: 9781591164456
Free Home Delivery
on all orders
Pick up orders
from local bookshops
Reviews
Showing 1 - 4 of 4 reviews.
Review by camarie
16/06/2015
I really recommend this series. A teenage boy helps direct souls in the afterlife to soul society where they can live peacefully. Only Hollows (corrupted souls) get in the way and even harm innocent souls. Ichigo relies on friends and family to fight for what is right.
Review by Eruantien
16/06/2015
This volume picks up where Volume 4 left off, with the introduction of a Quincy, a member of yet another faction in the hidden world of spirits and Hollows. Quite frankly, I disliked this volume. The majority of it is spent on Ichigo madly racing around fighting Hollows. The reveal of Chad's and Orohime's powers was interesting, but unfortunately, Orohime's powers are cheesy. Looking forward to the next volume, when hopefully the focus will be back on actual storytelling rather than endless fight scenes.
Review by AbSc0603
16/06/2015
So the idea of a Quincy is introduced. Whenever I hear "John Quincy Adams" I think of this. I like the idea of a Quincy, it would have been boring if the only rivals of Soul Reapers are hollows.
Review by Kassilem
16/06/2015
Ichigo's development is basically halted in this book, but only so other characters, like Orihime and Chad and even Urahaha could develop more. We learn more about Uryuu, who was introduced in the end of the last book, and why he hates Ichigo so much. The interaction between them is actually quite entertaining. You know they're going to end up being friends simply because they're so alike. There's even some hints that other Soul Reapers may be introduced soon. Tite Kubo is still doing a great job with these books.