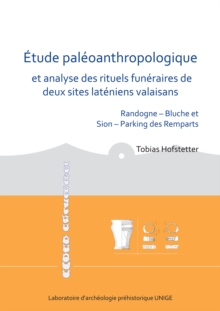 Etude paleoanthropologique et analyse des rituels funeraires de deux sites lateniens valaisans : Randogne - Bluche et Sion - Parking des Remparts
Paperback / softback
Description
This volume concerns the bioanthropological analysis and the investigation of Second Iron Age (also known as the La Tene period: 470-25 BC) funerary practices in central Valais.
More precisely, it deals with the study of two necropolises lately discovered in this mountainous region of southern Switzerland: Randogne-Bluche (excavated between 2001 and 2005) and Sion-Parking des Remparts (excavated in 2006).
The matter of Second Iron Age funeral practices has been investigated since the late 19th century in Switzerland and has ever since yielded many exceptional finds.
In archaeological terms, the research presented in this work introduces a consistent summary of the current archaeological and historiographical state of knowledge regarding Second Iron Age funeral practices in southern Switzerland. | Etude paleoanthropologique et analyse des rituels funeraires de deux sites lateniens valaisans : Randogne - Bluche et Sion - Parking des Remparts porte sur l'analyse bioanthropologique et l'etude des rituels funeraires lateniens en Valais central.
Plus precisement, elle traite des ensembles funeraires de Randogne - Bluche (fouille entre 2001 et 2005) et de Sion - Parking des Remparts (fouille en 2006).
Le premier objectif de cette etude a consiste a attribuer une identite et des caracteristiques biologiques aux individus inhumes au sein de ces deux ensembles.
Ensuite, il s'est agi de caracteriser ces deux ensembles funeraires par leur insertion au cadre geographique et archeologique, de s'interesser a leur organisation chronologique et spatiale et a l'architecture des sepultures, ainsi qu'aux positions d'inhumation, de meme qu'au mobilier funeraire present.
Par la suite, nous avons developpe une vision comparative de ces deux ensembles funeraires, avant de finalement les confronter a l'integralite du corpus funeraire latenien actuellement connu pour le Valais central et ainsi chercher a proposer une vision synthetique de la question.
Information
Format: Paperback / softback
Pages: 250 pages, 171 figs + 6 tables (colour and black & white throughout)
Publisher: Archaeopress
Publication Date: 30/09/2018
Category: Prehistoric archaeology
ISBN: 9781784919375
Free Home Delivery
on all orders
Pick up orders
from local bookshops
Also in the Laboratoire d'archeologie prehistorique UNIGE series