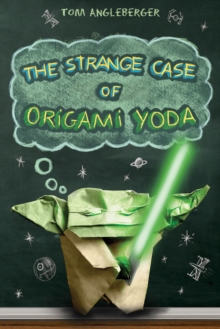 Strange Case of Origami Yoda
Hardback
Description
Tommy and his classmates narrate this middle grade mystery, each recounting an episode in which they received wise advice from a finger puppet of Yoda, perpetually worn on the finger of their classmate, Dwight, a loser who can't get anything right.
Is this puppet really Yoda? Or is Dwight a bit more together than he seems?
Information
Format: Hardback
Pages: 144 pages
Publisher: Abrams
Publication Date: 01/03/2010
Category: General
ISBN: 9780810984257
Other Formats
Paperback from £4.95
EPUB from £6.01
Free Home Delivery
on all orders
Pick up orders
from local bookshops
Reviews
Showing 1 - 5 of 53 reviews.
Previous | Next
Review by eenerd
16/06/2015
This book was fun and very entertaining. I picked it up at ALA in Boston because I'm a Star Wars fan and so anything with an origami Yoda on the cover must be good. I wasn't disappointed! This is the case file on origami Yoda and the advice he gives Tommy and his friends about life, girls, homework, and everything and whether or not Yoda is for real. The comments by the other kids at the end of the cases and the margin drawings are awesome and hilarious. Read this book you should, make you laugh it will.
Review by abbylibrarian
16/06/2015
In a series of stories, kids in Tommy's sixth grade class share their experiences with Origami Yoda, a paper finger puppet wielded by Dwight, the strangest kid in school. Origami Yoda seems to be giving good advice, but he can't be real... or can he? The cover and interesting presentation (a mixture of different fonts, cartoon illustrations) will have kids picking up this book and the story will keep their interest as well. This would be a great choice for <i>Wimpy Kid</i> fans. Instructions for making an Origami Yoda are included.
Review by JRlibrary
16/06/2015
My librarian gut instinct tells me that many of the readers who love Diary of a Wimpy Kid will also love this one! Angleberger has created a really lovable character in Dwight, the puppeteer of the green Origami Yoda. The paper finger puppet gives out infallible advice to Dwight's classmates. The answers to their questions is always given in "Yoda-speak" which means that any reader who has seen Yoda in a Star Wars movie will easily hear his voice in their head while reading the answers given by the puppet. The story is told through case files selected by the narrator, Tommy. The end of each case file is always commented on by the resident skeptic, Harvey, who does not believe in the mystic power of the finger Yoda. Fun be this book. Love it both males and females will. More copies buy, I must.
Review by meisbres
16/06/2015
Are you looking for a good book to read now you've finished The Diary of a Wimpy Kid? Look no further, Origami Yoda is here! Origami Yoda is a finger puppet made by this really weird middle schooler named Dwight. Dwight is the kind of nerd who wears the same t-shirt all month, wipes up spills in the cafeteria by scooting across the floor on his stomach, or only answers "purple" when you ask him a question. The thing is Dwight's paper puppet can predict the future and suggest the best way to handle a tricky situation. There's no way Dwight is that smart. So is Origami Yoda magic? The students of McQuarrie Middle School want to know so they start a case file to discover the truth. Check out their stories and related cartoons by reading The Strange Case of Origami Yoda by Tom Angleberger.
Review by kikotomo
16/06/2015
Dwight is an odd kid - he digs holes in his back yard and sits in them for hours, answers yes or no questions with the word "purple", and hides under the lunch tables for no particular reason. However, Dwight is the creator of the original Origami Yoda finger puppet and has most of the 6th grade believing that it can read peoples' minds and tell the future. Tommy, Dwight's friend, needs to know how much Origami Yoda can be trusted because his reputation is on the line. The Strange Case of Origami Yoda is Tommy's case file to discover the truth behind Origami Yoda. A simple, fun, easy to read novel. Although the plot is a little predictable, the light-hearted humor in this book will keep the pages turning.