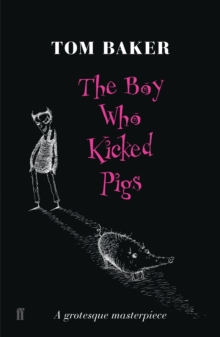 The Boy Who Kicked Pigs
Paperback
Description
Robert Caligari is a thoroughly evil thirteen-year-old who gets his kicks from kicking pigs.
After a humiliating episode with a bacon butty, Robert realizes just how much he loathes the human race - and his revenge is truly terrible.
This subversive horror-fantasy from Tom Baker (ex-monk, ex-sailor, and the ultimate Doctor Who) is outrageous and funny, and since the hardback was published in 1999 has gone on to become a cult classic.
It is illustrated throughout with b/w line drawings from David Roberts.
Information
Format: Paperback
Pages: 128 pages
Publisher: Faber & Faber
Publication Date: 20/10/2005
Category: Fantasy
ISBN: 9780571230549
Free Home Delivery
on all orders
Pick up orders
from local bookshops
Reviews
Showing 1 - 4 of 4 reviews.
Review by Anome
16/06/2015
Yes. <i>That</i> Tom Baker. The man who for many of my generation <i>was</i> the Doctor (and still is in many ways).This interesting little book came to my attention in Waterstones in Inverness. It's a classic grotesque about an old fashioned "horrid little boy" whose cruelty and disdain for others is his ultimate undoing. While entertaining, especially if one imagines it being read aloud by the author, there is something missing to make it a true classic. Or maybe it's just that this isn't usually my thing.Well worth a look, anyway.
Review by gaskella
16/06/2015
The Boy Who Kicked Pigs is by Tom Baker - yes, the fourth Dr Who. Incidentally, I can really recommend his autobiography Who on Earth is Tom Baker?, and having read that was intrigued to read this truly bizarre and gothic novella. It tells the story of an evil thirteen year old who kicks pigs - it starts off with his sister's piggy bank, but progresses to anything porcine including a bacon butty which is his downfall. He pledges revenge andAlthough written as a children's story in style - a bit Lemony Snicketish, it most definitely is not - but fans of Tim Burton would love it. It is also full of arcane adult references from the 1960s - from Will Fyffe (eccentric news reporter) to Hylda Baker (Lancashire actress). Clocking in at just 124 pages, of which half are evocative line drawings, it doesn't take long. I found that imagining Baker himself narrating made for an entertaining reading!
Review by sanddancer
16/06/2015
It is a very short book, just over 120 pages, but alternate pages are used for illustrations, so there is not much text and I read it in about an hour.It is about an evil little boy who delights in hating other people and making them suffer. The book is the story of his exploits and ultimate downfall. It is preposterous and gory, but a lot of fun if you have a dark sense of humour. I'm not sure whether this is intended for adults or children – I don't think it is suitable for younger children, but it has a similar appeal as the books of Roald Dahl.Author Tom Baker is best known for playing Doctor Who, although in the UK in recent years he has done a lot of voiceover work. He has a very distinctive voice that I could easily imagine reading the words of this book, which I think added to its quirkiness.Whilst the text did make me smirk and even laugh at loud at one point, equal credit must be given to the illustrator David Roberts whose witty drawings enhance the story enormously.This book certainly isn't going to be to everyone's tastes and the ending is particularly stomach-churning, but if you like black comedy it is a good quick read.
Review by lisa.isselee
10/11/2015
I recommend this book wholeheartedly! Especially for classic doctor who fans. Imagining this book being told in the voice of Tom Baker ... Sheer perfection ! <br/>Incredibly funny. The writing style is somewhat different but it fits the style of the author and book. <br/>Fantastic illustrations, together with the book it's the perfect marriage ! <br/>I bought this book under the classification of Fantasy, although I think Magical realism might fit this book a tad better.<br/>