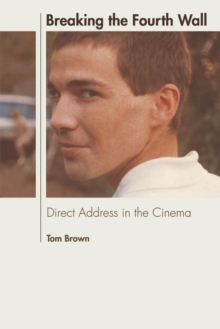 Breaking the Fourth Wall : Direct Address in the Cinema
Paperback / softback
Description
This book examines the role of direct address within fiction cinema.
Film characters are not supposed to look at the camera, so what happens when they do acknowledge our presence as spectators?
It is often assumed that this is incompatible with the voyeurism and the presence - absence that defines the cinema experience and disrupts our involvement in the fiction.
This book revaluates these and other fundamental assumptions about the medium by demonstrating that direct address is compatible with - and is in some cases a convention of - various traditions of filmmaking.
Breaking the Fourth Wall is the first book to provide a broad understanding of the role of direct address within fiction cinema.
Chapters on the role of direct address in Hollywood comedies and musicals, as well as in some 'alternative' film practices, are accompanied by extended readings of individual films in which the illusion of eye contact between spectator and character offers a rich metaphor for the problems of vision (insight, foresight, other kinds of perceptiveness) that are so often the currency of movie narratives. In examining direct address, it returns the reader to fundamental and foundational debates concerning how cinema has been defined since the early part of the 20th century, making it an invaluable resource for students and researchers in Film Studies.
Information
Format: Paperback / softback
Pages: 188 pages, black & white illustrations
Publisher: Edinburgh University Press
Publication Date: 30/08/2013
Category: Film theory & criticism
ISBN: 9780748683079