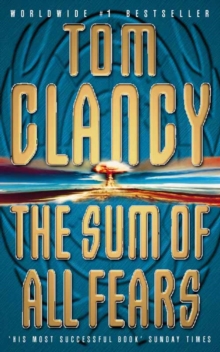 The Sum of all Fears
Paperback
Description
Jack Ryan confronts terrorists in the Middle East in Tom Clancy's spectacular sixth novel - another Sunday Times No 1 bestseller - now reissued with a new cover.As those in power around the globe face up to the challenges of a new world order, in Washington CIA Deputy Director Jack Ryan is putting everything into a plan that could finally bring peace to a Middle East still suffering from the ravages of war.
But too many groups have invested too much blood to allow the plan to succeed - the terrorists have one final desperate card to play.
With one terrible act the world is plunged into nuclear crisis.His dreams of peace shattered, Ryan is confronted with a situation he has never dared to imagine: with the world standing on the brink of war, what do you do if the US President is incompetent to deal with the greatest crisis of all?
Information
Format: Paperback
Pages: 1040 pages
Publisher: HarperCollins Publishers
Publication Date: 04/09/1991
Category: Crime & mystery
ISBN: 9780006471165
Free Home Delivery
on all orders
Pick up orders
from local bookshops
Reviews
Showing 1 - 3 of 3 reviews.
Review by reading_fox
16/06/2015
One of my favourite Clancy books. Ryan is a senior staffer, working hard, but struggling with the politics of the system. Terrorists manage to get hold of some nuclear material and sucseed in detonating it in Denver. Ryan saves the day by shortcutting the burocracy and talking directly to the russians. The technical discussions over the nuclear bomb may detract from some readers enjoyment, but I thought it carried the plot well.
Review by ponsonby
16/06/2015
This is a very long book (900+ pages), weaving together a large number of converging storylines which culminate in a terrorist nuclear attack in the US. There is a good deal of technical detail, which will suit some readers more than others. Some of the Washington politics seems a little unrealistic, at least to an outsider, and the lead character Jack Ryan is perhaps rather irritating at times, more than in some other books. The opening scenario of a peace plan for the mid-east seems particularly fantastical. The submarine sequences are a little dull, surprisingly from the author of 'Hunt for Red October'. The best storylines in my view are those dealing directly with the terrorists and the build-up to the 'event' despite the fact that these are the most technical. But as usual with a Clancy book the story does in due course achieve that 'can't put down' quality, which in my case paradoxically makes me deliberately stop reading occasionally so I don't totally overload.
Review by DaveLaw
16/06/2015
I've recently re-read this after a gap of about 10 years. It was at the time one of the best books I had read and in view of 9/11 somewhat prophetic. It is enjoyably detailed and although formularistic is difficult to put down. I would agree with other reviewers that this was the height of Clancy's powers and subsequent novels haven't matched the tension he was able to generate in this novel.