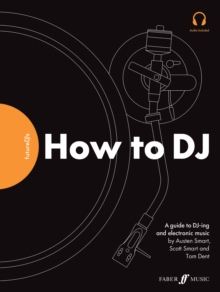 FutureDJs: How to DJ
Book
Description
FutureDJs: How to DJ is the ideal resource for anyone interested in the alchemy of mixing records.
Perfect for the aspiring student with no prior knowledge as well as DJs looking to extend their skills and explore new genres.
This complete guide covers all the technical foundations for DJ-ing in any genre or style, from fundamental skills such as beat-matching right through to using effects, scratching and beat-juggling. Featuring clear step-by-step instructions, stunning diagrams, at-a-glance guides to genres and packed with comments from professional DJs, this book will inspire and guide you through the creative and thrilling techniques required to become a FutureDJ.
Every skill can be practised over and over in a range of genres from House, Techno and Trance to Grime, Trap, Hip-hop and Drum and Bass. "At last, a comprehensive and authentic book on the art of DJ-ing.
The FutureDJs team have delivered a must-have book for anyone aspiring to become a DJ or enhance their existing skills." Mark Brown (Cr2 Records) "This brilliant handbook will help you to develop your skills, musical understanding and sense of what makes DJ-ing unique, exciting and important as a modern musical skill.
Dig in and enjoy." Dr Pete Dale