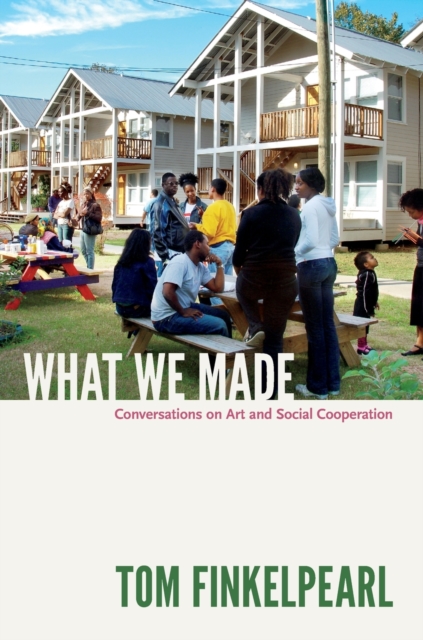 What We Made : Conversations on Art and Social Cooperation
Paperback / softback
Description
In What We Made, Tom Finkelpearl examines the activist, participatory, coauthored aesthetic experiences being created in contemporary art.
He suggests social cooperation as a meaningful way to think about this work and provides a framework for understanding its emergence and acceptance.
In a series of fifteen conversations, artists comment on their experiences working cooperatively, joined at times by colleagues from related fields, including social policy, architecture, art history, urban planning, and new media.
Issues discussed include the experiences of working in public and of working with museums and libraries, opportunities for social change, the lines between education and art, spirituality, collaborative opportunities made available by new media, and the elusive criteria for evaluating cooperative art.
Finkelpearl engages the art historians Grant Kester and Claire Bishop in conversation on the challenges of writing critically about this work and the aesthetic status of the dialogical encounter.
He also interviews the often overlooked co-creators of cooperative art, "expert participants" who have worked with artists.
In his conclusion, Finkelpearl argues that pragmatism offers a useful critical platform for understanding the experiential nature of social cooperation, and he brings pragmatism to bear in a discussion of Houston's Project Row Houses.Interviewees.
Naomi Beckwith, Claire Bishop, Tania Bruguera, Brett Cook, Teddy Cruz, Jay Dykeman, Wendy Ewald, Sondra Farganis, Harrell Fletcher, David Henry, Gregg Horowitz, Grant Kester, Mierle Laderman Ukeles, Pedro Lasch, Rick Lowe, Daniel Martinez, Lee Mingwei, Jonah Peretti, Ernesto Pujol, Evan Roth, Ethan Seltzer, and Mark Stern
Information
Format:Paperback / softback
Pages:416 pages, 91 illustrations
Publisher:Duke University Press
Publication Date:15/01/2013
Category:
ISBN:9780822352891
Information
Format:Paperback / softback
Pages:416 pages, 91 illustrations
Publisher:Duke University Press
Publication Date:15/01/2013
Category:
ISBN:9780822352891