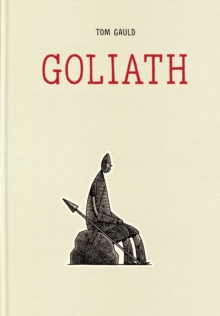 Description
A master of stripped-down, powerful storytelling reworks the David-and-Goliath myth"Gauld's Goliath is a master class in reduction...a celebration of the Christian underdog becomes a subtle meditation on the power of spin and the absurdity of war."-The Times of LondonGoliath of Gath isn't much of a fighter.
Given half a choice, he would pick admin work over patrolling in a heartbeat, to say nothing of his distaste for engaging in combat.
Nonetheless, at the behest of the king, he finds himself issuing a twice-daily challenge to the Israelites: "Choose a man.
Let him come to me that we may fight. If he be able to kill me then we shall be your servants.
But if I kill him, then you shall be our servants." Day after day he reluctantly repeats his speech, and the isolation of this duty gives him the chance to banter with his shield-bearer and reflect on the beauty of his surroundings.
This is the story of David and Goliath as seen from Goliath's side of the Valley of Elah.
Quiet moments in Goliath's life as a soldier are accentuated by Tom Gauld's drawing style, which contrasts minimalist scenery and near-geometric humans with densely crosshatched detail reminiscent of Edward Gorey.
Goliath's battle is simultaneously tragic and bleakly funny, as bureaucracy pervades even this most mythic of figures.
Goliath displays a sensitive wit, a bold line, and a traditional narrative reworked, remade, and revolutionized.
Information
Format: Hardback
Pages: 96 pages, Two-Colour Illustrations
Publisher: Drawn and Quarterly
Publication Date: 01/02/2012
Category: Comics and Graphic Novels
ISBN: 9781770460652
Free Home Delivery
on all orders
Pick up orders
from local bookshops
Reviews
Showing 1 - 5 of 6 reviews.
Previous | Next
Review by jasonli
16/06/2015
"Goliath" is a great, modern twist on the David and Goliath myth. Illustrated with clean lines and stark imagery by Gauld, the story juxtaposes witty modern-day dialogue with an ancient setting. It is, however, a short story, so be warned that it is quite a quick read.
Review by kivarson
16/06/2015
Tom Gauld retells the ancient Biblical story of Davy bringing down Goliath from a compelling viewpoint--that of Goliath. He brings empathy and compassion to a character who for centuries has represented the malicious unbeatable foe. What if Goliath just wanted to stick to administrative duty in the Philistine Army?
Review by zzshupinga
16/06/2015
For such a short book, Tom Gauld paints a story that will give you pause for a short time and consider other stories that you've read and whether or not their ending is different than what's been relayed. We often here that history is written by the winner and in no place is that more evident that David vs. Goliath. David is painted as a hero and Goliath as a villain seeking to do evil. But what do we really know about Goliath? And that's the story that Tom explores in this book. I won't say much more because it would give things away, but it paints a completely different story than what we've heard before.Tom's artwork relies heavily on a dichromatic color scheme, brown and black, to create simple, almost childish figures that inhabit the story. The characters have little detail to them, but convey the dignity of the characters. The style works really well for the story as anything with more detail would feel overwrought and overbalance the simplicity of what we're seeing and reading.
Review by Sullywriter
16/06/2015
A witty, darkly comic retelling of the David and Goliath story.
Review by msf59
16/06/2015
Yes, Goliath is a big strapping dude. He is also shy, reticent and prefers admin work over anything physical or warlike. One day he is told to don his armor and head out to the Valley of Elah and deliver a challenge to the Israelites.This is a smart, crafty, retelling of a biblical tale, but from the reverse angle. It is poignant, bittersweet and thought-provoking. The illustrations seem to be spare and simple but actually pack a nice punch. Once again, this proves how effective and invaluable GNs can be. Highly recommended.