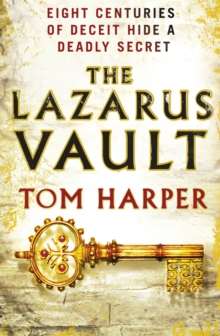 The Lazarus Vault
Paperback
Description
Deep in the heart of London, the Monsalvat Bank is small, secretive and fabulously wealthy.
When Ellie Stanton, an impoverished graduate student, is unexpectedly invited to join the firm, the privileged world they offer looks too good to turn down.
But the bank is more than it seems. Soon Ellie realises that her life belongs to her employers - and they're watching her every move.
For buried in their medieval vaults lies a closely-guarded treasure of immeasurable power - one inextricably bound up with Ellie's own history.
Now Ellie is in a race against time, hunted by the bank and pursued by her past.
Her only hope of escape is to unearth the secret hidden in the vault.
But getting in is only the beginning...
Information
Format: Paperback
Pages: 480 pages
Publisher: Cornerstone
Publication Date: 31/07/2010
Category: Thriller / suspense
ISBN: 9780099547839
Free Home Delivery
on all orders
Pick up orders
from local bookshops
Reviews
Showing 1 - 3 of 3 reviews.
Review by pinkozcat
16/06/2015
This is a "da Vinci genre" book with the usual hunt for the holy grail: there is also a lance ...There are two different time zones, the 12th century and the 21st century with parallel stories; an interesting concept.However, all the characters, with the exception of the 21st Century boyfriend, were rather unpleasant people who spent their lives making the wrong choices, mostly with fatal results.So, OK, there is a cipher. Unfortunately it is necessary to have a knowledge of Norman French in order to solve it and since the original Norman French poem is never presented to us it is not possible to even have an honest try at the solution.I found my eyes glazing over after a time and only finished it because my copy is in e-book format and I have to get to the last page for the book to consider itself read.I would say "Don't bother" but if you like blood and guts and some insights into medieval jousting then you might enjoy it.
Review by adpaton
16/06/2015
Dan Brown fans are not fussy about mangled history and disjointed writing, so might enjoy The Lazarus Vault, a story of characters on the run trying to crack a code, with the prize being nothing less than the Holy Grail, hidden in the vaults of an ancient and sinister private bank. Dual parallel worlds jumping between 2009 and the 12th Century rather irritated me, although the skullduggery of the banking world through the ages proved mildly entertaining. Harper is a gifted writer – as evidenced by the brilliant 'Mosaic of Shadows': he can do better than this.
Review by xprsg
16/06/2015
Two stories 800 years apart about two very strongly willed but troubled people who are on a quest for lost secrets.... that's about as exciting as this book gets. While the story keeps you wanting to come back to read more, it doesn't really give anything in return for all your efforts.. even tho the ending is the bog standard "wait for the next indiana jones adventure" it isn't fulfilling. Won't be recommending this one.