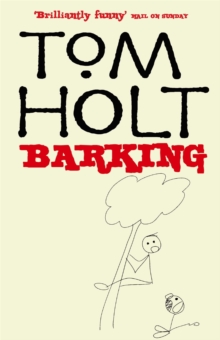 Description
Monsters are roaming the streets of London. Of course, some monsters are scarier than others:Unicorns?
No bother.Vampires? Big deal.Werewolves? Ho hum.Lawyers? ... Aaargh!Duncan's boss doesn't think that he's cut out to be a lawyer.
He isn't a pack animal. He lacks the killer instinct. But when his best friend from school barges his way back into Duncan's life, with a full supporting cast of lawyers, ex-wives, zombies and snow-white unicorns, it's not long before things become distinctly unsettling.
Hairy, even.
Information
Format: Paperback
Pages: 432 pages
Publisher: Little, Brown Book Group
Publication Date: 07/02/2008
Category: Fantasy
ISBN: 9781841492865
Free Home Delivery
on all orders
Pick up orders
from local bookshops
Reviews
Showing 1 - 3 of 3 reviews.
Review by pauliharman
16/06/2015
A terrific return to form for Holt after the disappointing 'Paul Carpenter' series of novels.
Review by SonicQuack
16/06/2015
Barking is a clever approach to the werewolf genre - werewolf lawyers. It's strictly comedy with frequent insightful wit along the way. However, at times Holt does tend to pad out chapters with unnecessary internal monologue. The story itself weaves a line which occasionally slips in to confusion rather than the intended chaos, although there are plenty of recaps to keep the fast paced story in focus. Barking has plenty of magic moments, some very well though out narrative and some top quality originality. Barking is a recommended, if lengthy, read.
Review by grizzly.anderson
16/06/2015
Everybody knows that lawyers are all ambulance chasers or bloodsuckers. Since this is Tom Holt and the story involves 2 law firms, one of vampires and one of werewolves, it isn't hard to figure out which one is which. Holt is a little less subtle in the jokes but not much. Barking is a nice change from the setting of J W Wells, but the overall plot isn't that different. Innocent naif winds up in the middle of the supernatural running as more-or-less normal business in London. Finds girl. Loses girl. Gets girl back. Lives happily ever after, often in America. Why is it that America is some idealized land to various supernatural Londoners? In Vintage Holt style it gets a little slow in the middle while it transitions from the puns, jokes, and innuendo to setting up the hero, heroine, and bad guy for the inevitable fight, non-traditional victory and happy ending with more jokes, innuendo and puns. Holt really likes a pun, especially when he can sneak it up on you, and he can be snarky with some fairly purple prose. If lawyer-werewolf jokes and lines like "Obviously, she must have hidden depths, like the Atlantic (dark, murky, inhabited by pale creepy things with huge eyes and rows of needle-sharp teeth)." are your thing, you'll enjoy Barking.