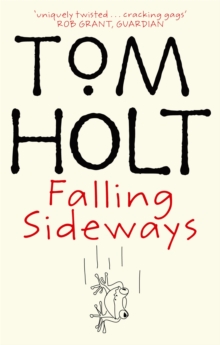 Falling Sideways
Paperback
Description
From the moment the first Homo Sapiens descended from the trees, possibly onto their heads, humanity has striven towards civilisation.
Fire. The Wheel. Running Away from furry things with more teeth than one might reasonably expect - all are testament to man's ultimate ascendancy. It is a noble story, a triumph of intelligence over adversity and so, of course, complete and utter fiction.
For one man has discovered the hideous truth: that humanity's ascent has been ruthlessly guided by a small gang of devious frogs. More information on this book and others can be found on the Orbit web-site at www.orbitbooks.co.uk
Information
Format: Paperback
Pages: 416 pages
Publisher: Little, Brown Book Group
Publication Date: 06/06/2002
Category: Fantasy
ISBN: 9781841491103
Free Home Delivery
on all orders
Pick up orders
from local bookshops
Reviews
Showing 1 - 5 of 7 reviews.
Previous | Next
Review by mashcan
16/06/2015
This is a fun read about frogs that secretly control the planet and gods and falling in love with a woman in a painting.
Review by Noisy
16/06/2015
What's to say. I had thought of some pithy, witty one liners, after the vein of Holt, but I don't think this book deserves them. It's a nice story that moves along at quite a pace but there are some jumps in the narrative that feel out of place and leave you struggling to catch up. It has science fiction elements - cloning, aliens, space travel (of a sort) - but it's nothing more than fantasy in my book (and that's a bad thing). I've read a couple of other Tom Holt books that encouraged me to buy this one and another, but, after this experience, I'm sure I can find better things to do with my reading hours.
Review by Shrike58
16/06/2015
David Perkins has an obsession, one that has haunted him since he was a child, she has a name too; Philippa Levens, marchioness of Ipswich. Besides the small matter of class, there is the additional issue that Philippa was burned as a witch in 1602, which makes it kind of hard to get a date. Still, our hero considers himself lucky to win a lock of Philippa's hair at an auction; even if the cost was a bit steep and there are now these sinister men shadowing him. That's not the real trouble though. That starts when David trips over a hole-in-the-wall operation called Honest John's House of Clones.Unfortunately, that's when the real trouble starts with this novel too, as much of the book consists of Perkins wandering around and learning that everything he knows is wrong, but to no real end. At least no real end that comes with a bit of sizzle, as opposed to groans. What it boils down to is that while there are plenty of amusing passages, the plot just doesn't hang together, even for a shaggy-dog comedy of errors. One suspects that arbitrarily cutting this story back fifty or so pages would have probably done it a world of good. This is particularly since the conspiracy suggested by the blurb is just not that interesting.Oh well, better luck next time.
Review by kingoftheicedragons
16/06/2015
This was the first Tom Holt book that I read, and still ranks up among my favorite of his. When I first read the book, I was a bit unsure of the ride that he was taking us, his readers, on. It seemed that as soon as you started to figure out what was going on in the book and what may be forthcoming in the book, Tom Holt suddenly switches gears and directions and takes us in a totally different direction. In one sense, I had the feeling that he didn't know where he was going with the story; but another sense tells me that he wanted to keep us guessing and to avoid falling into the same tired stories and formats that you can find in so many different books. It is also one of the funnier books that I have read in quite some time, along the lines of Douglas Adams. I would definitely recommend this book to anyone who is looking for something a little bit different, with a comedic angle to it.
Review by isabelx
16/06/2015
It starts with a man staring at the portrait of a 17th century witch and the convoluted plot involves alien frogs, clones and green goo. It's confusing but funny and Tom Holt has the Douglas Adams touch when it comes to description. At one point the protagonist is felled by a giant frog which sits on his back chatting about how important it is to stay in touch with your inner tadpole.