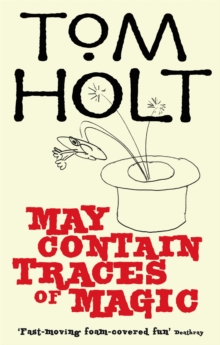 May Contain Traces Of Magic : J.W. Wells & Co. Book 6
Paperback / softback
Description
'Holt is, as usual, absurd, funny, and light-handed enough with the completely ridiculous bits to keep the story moving, assuring that the reader doesn't actually notice how bizarre the story has become, or how tangled the mystery is, until it's nearly done.' - Booklist'Uniquely twisted . . . cracking gags.' - GuardianThere are all kinds of products.
The good ones. The bad ones. The ones that stay in the garage mouldering for years until your garden gnome makes a home out of them.
Most are harmless if handled properly, even if they do contain traces of peanuts.
But some are not. Not the ones that contain traces of magic. Chris Popham wasn't paying enough attention when he talked to his SatNav.
Sure, she gave him directions, never backtalked him, and always led him to his next spot on the map with perfect accuracy.
She was the best thing in his life. So was it really his fault that he didn't start paying attention when she talked to him?
In his defence, that was her job. But when 'Take the next right' turned into 'Excuse me,' that was when the real trouble started. Because sometimes a SatNav isn't a SatNav. Sometimes it's an imprisoned soul trapped inside a metal box that will do anything it can to get free. And some products you just can't return. Another slice of fantastic comic TOMfoolery. Books by Tom Holt: Walled Orchard Series Goatsong The Walled Orchard J.W.
Wells & Co. Series The Portable Door In Your Dreams Earth, Air, Fire and Custard You Don't Have to Be Evil to Work Here, But It Helps The Better Mousetrap May Contain Traces of Magic Life, Liberty and the Pursuit of Sausages YouSpace Series Doughnut When It's A Jar The Outsorcerer's Apprentice The Good, the Bad and the Smug Novels Expecting Someone Taller Who's Afraid of Beowulf Flying Dutch Ye Gods!
Overtime Here Comes the Sun Grailblazers Faust Among Equals Odds and Gods Djinn Rummy My Hero Paint your Dragon Open Sesame Wish you Were Here Alexander at World's End Only Human Snow White and the Seven Samurai Olympiad Valhalla Nothing But Blue Skies Falling SidewaysLittle PeopleSong for NeroMeadowlandBarkingBlonde BombshellThe Management Style of the Supreme BeingsAn Orc on the Wild Side
Information
Format:Paperback / softback
Pages:368 pages
Publisher:Little, Brown Book Group
Publication Date:01/04/2010
Category:
ISBN:9781841495064
Also in the J.W. Wells & Co. series | View all