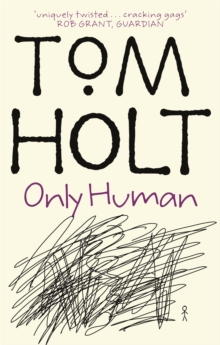 Description
Something is about to go wrong. Very wrong. What do you expect if the Supreme Being decides to get away from it all for a few days, leaving his naturally inquisitive son to look after the cosmic balance of things? A minor hiccup with a human soul and a welding machine soon leads to a violent belch, and before you know it the human condition - not to mention the lemming condition - is tumbling down the slippery slope to chaos.
Information
Format: Paperback
Pages: 352 pages
Publisher: Little, Brown Book Group
Publication Date: 06/01/2000
Category: Fantasy
ISBN: 9781857239492
Free Home Delivery
on all orders
Pick up orders
from local bookshops
Reviews
Showing 1 - 2 of 2 reviews.
Review by roxy
16/06/2015
Review by isabelx
16/06/2015
In the mirror he saw a short, bald, middle-aged man with rosy cheeks and square, black-rimmed glasses; not entirely unlike what he saw in his mirror at home, except for the lack of horns and the regrettably uncloven feet. Trying to balance on these flat nan-bread-shaped things was a nightmare in itself; to someone who was used to the functional elegance of the hoof, it was like trying to do a Fred Astaire dance routine in snowshoes. The lack of horns was something else he'd have difficulty getting used to if this strange state of affairs lasted for any length of time. He'd often wondered how mortals managed without them; particularly office workers. How else did they pierce paper for filing in box files, or remove staples, or open Cellophane-wrapped packets of biscuits?When God and his oldest son go fishing, his younger son Kevin is left in charge, but causes chaos on Earth and in Hell when he signs on to Mainframe and presses the wrong key. Down on earth, four English men and women find that they have swapped 'bodies' with a piece of industrial machinery, a medieval painting of the Madonna and child, a lemming and a Duke of Hell (albeit a demon who runs the payroll rather than torturing the damned). One of my favourite sub-plots involved the Prime Minister (now in a lemming's body) becoming leader of the lemmings by promising a brave new world in which there wold be no great leaps forward (or down) and everyone would stay where they were, while the lemming in the Prime Minister's body sat on top of a wardrobe in 10 Downing Street, periodically jumping off onto a pile of cushions and biting people. A quick read, with convoluted sub-plots all coming together at the end, and a couple of loose ends involving Kevin's parentage and his relationship with the help desk girl from the computing company leaving room for a sequel.