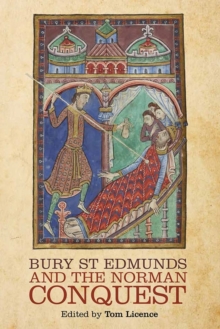 Bury St Edmunds and the Norman Conquest
Hardback
Description
"Bury St Edmunds is noteworthy in so many ways: in preserving the cult and memory of the last East Anglian king, in the richness of its archives, and not least in its role as a mediator of medical texts and studies.
All these aspects, and more, are amply illustrated in this collection, by specialists in their fields.
The balance of the whole work, and the care taken to place the individual topics in context, has resulted in a satisfying whole, which places Abbot Baldwin and his abbey squarely in the forefront of eleventh-century politics and society." Professor Ann Williams. The abbey of Bury St Edmunds, by 1100, was an international centre of learning, outstanding for its culting of St Edmund, England's patron saint, who was known through France and Italy as a miracle worker principally, but also as a survivor, who had resisted the Vikings and the invading king Swein and gained strength after 1066.
Here we journey into the concerns of his community as it negotiated survival in the Anglo-Norman empire, examining, on the one hand, the roles of leading monks, such as the French physician-abbot Baldwin, and, on the other, the part played by ordinary women of the vill.
The abbey of Bury provides an exceptionally rich archive, including annals, historical texts, wills, charters, and medical recipes.
The chapters in this volume, written by leading experts, present differing perspectives on Bury's responses to conquest; reflecting the interests of the monks, they cover literature, music, medicine, palaeography, and the history of the region in its European context. Dr Tom Licence is Senior Lecturer in Medieval History and Director of the Centre of East Anglian Studies at the University of East Anglia. Contributors: Debbie Banham, David Bates, Eric Fernie, Sarah Foot, Michael Gullick, Tom Licence, Henry Parkes, Veronique Thouroude, Elizabeth van Houts, Thomas Waldman, Teresa Webber
Information
Format: Hardback
Pages: 280 pages
Publisher: Boydell & Brewer Ltd
Publication Date: 21/08/2014
Category: British & Irish history
ISBN: 9781843839316
Free Home Delivery
on all orders
Pick up orders
from local bookshops