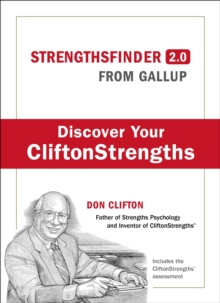 StrengthsFinder 2.0
Hardback
Description
DO YOU HAVE THE OPPORTUNITY TO DO WHAT YOU DO BEST EVERY DAY?
Chances are, you don't. All too often, our natural talents go untapped. From the cradle to the cubicle, we devote more time to fixing our shortcomings than to developing our strengths.To help people uncover their talents, Gallup introduced the first version of its online assessment, StrengthsFinder, in the 2001 management book Now, Discover Your Strengths.
The book spent more than five years on bestseller lists and ignited a global conversation, while StrengthsFinder helped millions discover their top five talents.
In StrengthsFinder 2.0, Gallup unveils the new and improved version of its popular assessment.
While you can read this book in one sitting, you'll use it as a reference for decades.
Loaded with hundreds of strategies for applying your strengths, this new book and accompanying website will change the way you look at yourself - and the world around you - forever.
Available exclusively through the unique access code included in StrengthsFinder 2.0: A new and upgraded edition of the StrengthsFinder assessment, a personalized Strengths Discovery and Action-Planning Guide for applying your strengths in the next week, month and year, 50 Ideas for Action (10 strategies for building on each of your top five themes) and the redesigned StrengthsFinder 2.0 companion website.
Free Home Delivery
on all orders
Pick up orders
from local bookshops
Reviews
Showing 1 - 5 of 19 reviews.
Previous | Next
Review by adamallen
16/06/2015
I gave this book one star only because I like it's premise - stop spending so much time focusing on your weaknesses and embrace and build your strengths. Personally, I believe this is an important point for both adults and children.Beyond that point, this book is typical self-help drivel. It has essentially one chapter that you can read in 30 minutes or less. What you really buy the book for is the sealed code in the back pocket which allows you to take an online test which "determines your strengths". You go through umpteen million multiple choice questions and it spits out your "Top 5 Themes" and an "Action-Planning Guide". I say horseshit.I hate to sound so negative about it but here are my two issues:#1 - my five themes, I could have guessed. They just gave them fancy made-up names (Relator, Intellection, Strategic, Input, Learner). WTF?#2 - Their "Theme Descriptions" do nothing more than regurgitate words from the questions you just took. I mean really, how hard is it to write a description of a "Learner"?#3 - Their "Ideas for Action" - again, garbage. Two examples straight from my "Intellection Theme": "Consider beginning or continuing your studies in philosophy, literature, or psychology. Youwill always enjoy subjects that stimulate your thinking." and "You are at your best when you have the time to follow an intellectual trail and see where itleads."OK, Captain F'n Obvious, if I tested as having an Intellection Theme, don't you think I'm doing these things already?I was sorely disappointed in this book although when I picked it up, I did get a faint whiff of suck. It's such a good premise too...
Review by dizzyg
16/06/2015
My boss bought this book for me. We all took the 'test'. It was amazing how accurate the results felt. Did I gain new insight into myself? Not really. Did it sound more accurate then say astrology? Definitely.
Review by DaveShearon
16/06/2015
Outstanding. Small but powerful, especially as a support for the online assessment. Works great with high school juniors and up in gaining insights for directions in college. Buy it!
Review by debherter
16/06/2015
Does a fair job of achieving its goal: to use an inventory of your strengths to reveal how you can use them best. Slightly different from the other self-help, self-inventory books and tests out there. Provides a key to allow you to access their online skills inventory.
Review by 89vine
16/06/2015
If you purchase this book, it's mainly for the code in the back of the book, which you can use to take an online test from the author. It's definitely worth the money, if you care about finding your strengths.I'd go so far as to say it's life changing.