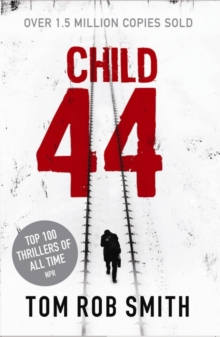 Description
In Stalin's Soviet Union, crime does not exist. But still millions live in fear. The mere suspicion of disloyalty to the State, the wrong word at the wrong time, can send an innocent person to his execution.
Officer Leo Demidov, an idealistic war hero, believes he's building a perfect society.
But after witnessing the interrogation of an innocent man, his loyalty begins to waver, and when ordered to investigate his own wife, Raisa, Leo is forced to choose where his heart truly lies.
Then the impossible happens. A murderer is on the loose, killing at will, and every belief Leo has ever held is shattered.
Denounced by his enemies and exiled from home, with only Raisa by his side, he must risk everything to find a criminal that the State won't admit even exists.
On the run, Leo soon discovers the danger isn't from the killer he is trying to catch, but from the country he is trying to protect.
Information
Format: Paperback
Pages: 512 pages
Publisher: Simon & Schuster Ltd
Publication Date: 28/04/2011
ISBN: 9780857204080
Other Formats
Paperback from £6.39
EPUB from £5.99
CD-Audio from £17.95
Free Home Delivery
on all orders
Pick up orders
from local bookshops
Reviews
Showing 1 - 3 of 3 reviews.
Review by Parthurbook
16/06/2015
A secret policeman in Stalinist Russia gets drawn toward a series of killings while the State machinery denies the possibility that such events could occur. A book that lives up to the hype on the covers; a remarkably well-plotted thriller that creates tension through political paranoia and physical peril. Astonishing that it's a first novel - brilliant craft demonstrated throughout. A gripping read that I can't recommend too highly.
Review by polarbear123
16/06/2015
A good thriller, well written but is it 'one of the top100 thrillers of all time'?. The plot is well made but don't forget the focus here is on the nature of Stalinist Russia rather than the crime itself. Depends how much you like Russian history....
Review by Daftboy1
27/08/2015
This book is set in the 1950s Communist Soviet Union. Well written easy to read.Main character is Leo Demidov he works for the Secret Police He falls out of favour with the regime Leo and his wife Raisa are sent out to the countryside to keep quiet. Leo is convinced there is a traveling serial killer murdering young children. His superiors aren't happy with him they get arrested and sent to the gulags, they escape en route and eventually track down the killer who happens to be Leo's estranged brother. The new Police regime now realise that Leo was correct all along. He gets promoted.This is a good book. I will look out for the next book in this series.