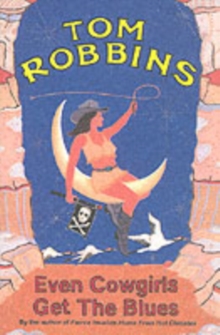 Even Cowgirls Get the Blues
Paperback
Information
Format: Paperback
Pages: 366 pages
Publisher: Oldcastle Books Ltd
Publication Date: 11/10/2001
ISBN: 9781842430248
Free Home Delivery
on all orders
Pick up orders
from local bookshops
Reviews
Showing 1 - 5 of 5 reviews.
Review by Crowyhead
16/06/2015
Highly, highly influential during my highschool years. There was a girl I had a crush on to whom I would write letters and sign them "Bonanza Jellybean"...
Review by meridius
16/06/2015
This is one of my all-time favorites. Dedicated to the amoeba: that inveterately versatile and vagabond single cell hitchhiker, Robbins chronicles the adventures of the audaciously-thumbed Sissy Hankshaw.Like most Robbins books, I'm always reborn a little having read and re-read them.The first couple of hundred pages might seem too obtuse for some, but stick with it!
Review by jawalter
16/06/2015
eBook<br/><br/>I suppose one's tolerance for this book, or any other by Mr. Robbins, has a lot to do with how one responds to bullshit. Because, in truth, his most apparent skill is the willingness with which he flings the stuff at his readers.<br/><br/>I can only speak for myself, of course, but I enjoy it. I can't begin to imagine that Robbins actually believes half of what he writes (and if he does, what the hell does it matter anyway?), but I get a kick out of his willingness to throw everything, including the kitchen sink, onto the page and leave the rest of us to mop up the detritus.<br/><br/>In spite of the readily apparent flimsiness that results, what's left feel remarkably authentic. <i>Even Cowgirls Get the Blues</i> was a very fun read, despite its many flaws. Admittedly, Robbins self-indulgence and complete lack of discipline did get tiresome from time to time, the verve with which he wrote it provides the book with the only excuse it needs.<br/><br/>As far as what he or the book are attempting to say? I'll be damned if I know. He seems to have severe issues in dealing with authority figures, from the political to the personal, and it's probably this, more than any latent misogyny or objectification of women that informs his peculiar brand of feminism. That's not to say that his female (or male, for that matter) characters are immune to a deeply-buried hatred of women or a painfully obvious yearning to fetishize the human form as little more than living, breathing, sweating, stinking sex toys.<br/><br/>And if that doesn't constitute my own personal pile of toro feces, I don't know what will.
Review by amaraduende
16/06/2015
This book has THE best wordplay of any novel I've ever read. I love the metaphors and the playful way Robbins uses the language that we all use... There are some very R rated scenes, some of which are funny and some just sort of annoyingly there. Overall, though, this book is a hoot.
Review by satyridae
16/06/2015
I revisited this book with some misgivings. I read this book so many times my original copy fell apart. It was so heavily underlined and annotated that the original text was hard to make out. I was a teenager, in love with words and possibilities. I'm middle-aged now, still in love with words but more closed off, more apt to sneer at ingenuousness and hope. I was hesitant to open the new copy of Even Cowgirls Get the Blues.<br/><br/>I needn't have worried. Though some of it is undeniably dated, the core of joy and playfulness shines through Robbins' philosophical musings. It was surprising how much of this book I still knew by heart though I've not read it in probably 15 years. It's a paean to love and transcendence, a delightful romp through philosophies that can seem like blunt instruments in less skillful hands.<br/><br/>