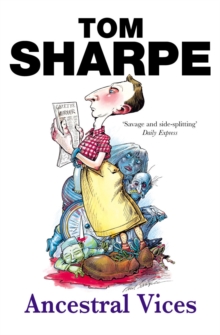 Ancestral Vices
Paperback
Description
With his only friend a computer, Walden Yapp has lived a singular life.
Professor of Demotic History at the University of Kloone, Yapp spends his days highlighting the corrupt capitalistic nature of the upper-classes, and his nights feeding Doris his computer the information he has gatheredSo when capitalist Lord Petrefact hires him to write a damaging family history, Yapp seizes the chance to chronicle the corrupt life of the Petrefact family.
Spurred on by his expectations of dishonesty and depravity Yapp heads of the town of Buscott, where nobody is what they at first appear to be. Now a pawn in Lord Petrefact's vindictive family game, Yapp's presence is as welcome as the plague.
From provoking dwarfish marital problems to uncovering an erotic toy factory Yapp's presence sparks a chain of events that ends in death, destruction and a murder trial.
Going through a car wash will never feel the same again.
Information
Format: Paperback
Pages: 384 pages
Publisher: Cornerstone
Publication Date: 07/11/2002
ISBN: 9780099435532
Free Home Delivery
on all orders
Pick up orders
from local bookshops
Reviews
Showing 1 - 2 of 2 reviews.
Review by ee95104
16/06/2015
How can so much go so terribly wrong? Tom Sharpe wrote an adicting book describing how one's intentions can be misinterpreted and every action lead to the opposite end.A left wing Professor set his goals on ruining a Tycoon's reputation but ended up in prison with a life sentence himself, through a series of misunderstangings.
Review by mausergem
16/06/2015
A rich, ruthless and capitalistic old man Lord Petrefact decides to take revenge on his family for apparently no reason by exposing the dubious family history. For this purpose he hires a eccentric and socialist professor Mr. Yapp. Yapp lands up in Buscott, the town from which the family fortunes originated, and creates chaos in the town. He is later implicated in the murder of the town dwarf.We don't always get when the author is trying to be funny and when he is bemoaning the plight of the lower classes. This is a a strictly ok read.