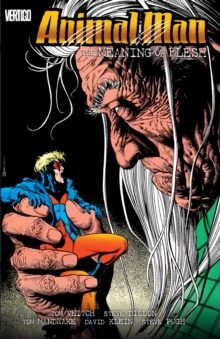 Animal Man Vol. 5 : The Meaning Of Flesh
Paperback / softback
Description
The sequel to Grant Morrison's genre-defining run on Animal Man, thisvolume features stories never before reprinted from writer Tom Veitch and a hostof talented artists, including Steve Dillon (Preacher) and covers byBrian Bolland (Batman: The Killing Joke).
Animal Man, a.k.a. Buddy Baker, is desperate to return to a life ofnormalcy.
In order to reconnect with his family, Buddy sets out to spend somequality time with his wife and two children.
However, after he begins to explorethe totemic effects of his power to replicate the abilities of animals, willthis former superhero ever have the opportunity to live a normal life?Collects Animal Man #27-37.
Information
Format: Paperback / softback
Pages: 352 pages
Publisher: DC Comics
Publication Date: 15/01/2014
Category: Superheroes
ISBN: 9781401242848
Also by Tom Veitch