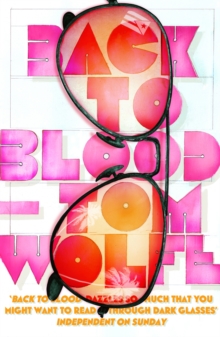 Description
As the police boat speeds across Miami's Biscayne Bay, the scene is set for Officer Nestor Camacho's great moment of heroism.
Except that in this feverous melting pot of a city, Nestor's one act of heroism can be seen as an utter betrayal of his Cuban roots.
As Nestor's world disintegrates - his family disowns him, he can't get a Cuban coffee without ugly stares, and his girlfriend Magdalena leaves him for her sex-addiction psychiatrist boss - his quest to right the wrongs brings him into contact with the full panorama of modern Miami.
The Cuban mayor, a Yale-marinated journalist, the black police chief, a Haitian professor whose ambitions to be French are thwarted by his Creole-spouting son, the clueless baying art-buyers and an Anglo billionaire porn addict all come up for scrutiny in Tom Wolfe's high-energy, scrupulous and hilarious reckoning with our times.
Information
Format: Paperback
Pages: 720 pages
Publisher: Vintage Publishing
Publication Date: 02/07/2013
ISBN: 9780099578536
Free Home Delivery
on all orders
Pick up orders
from local bookshops
Reviews
Showing 1 - 2 of 2 reviews.
Review by herschelian
16/06/2015
A curate's egg of a book - in some ways Tom Wolfe doesn't disappoint, I got a clear idea of the demographic tensions within Miami and of the crazy Emperor's New Clothes situation regarding Art Basel Miami. But the book really needed some serious editing and the story-line just fizzled out like a damp squib. I often think that famous writers are badly edited in their later works - maybe publishers think they don't need editing because they are already well known; or maybe publishers think they can save money by not bothering to use a good editor on their books. Whatever the reason, it does the author no service whatsoever. Crazy coincidence is that Art Basel Miami has just taken place and celebs attending it - exactly as Wolfe describes - are featured in the UK press. If I hadn't read the book it would have all gone right over my head!
Review by Eyejaybee
16/06/2015
Over recent years I have found myself wondering why John Cleese and Steve Martin seemed to stop being funny, or at what point did Paul McCartney's talent dry up. Alongside these perplexing questions I would like to know what happened to Tom Wolfe, who seems to offer an immense literary enigma. How can one person write a novel as marvellous, engrossing and iconic as [The Bonfire of the Vanities] and follow it up, at a space of several years each time, with works as lamentable as [A Man in Full], [I Am Charlotte Simmons] and, now, [Back to Blood]. [The Bonfire of the Vanities] caught the dynamic of the late 1980s with searing accuracy, hurling would-be Master of the Universe Sherman McCoy down from his Olympian life after literally taking a wrong turning in the Bronx. Like Thackeray's [Vanity Fair], this was a novel without a hero through it abounded with victims, including McCoy who was ground down through the maws of a rotten criminal prosecution system after his car knocks down Henry Lamb, a young man from the Bronx who is left on a life support system. A rich cast of characters all pursue their separate agendas, each of which is handed masterfully by Wolfe, even though this was his first venture into writing fiction.Twenty-five years and three novels on and Wolfe's grip seems to have loosened. He does, it is true, come up with an intriguing plot hook, with Nestor Camacho, a Cuban American police officer in Miami becoming involved in the arrest of a Cuban refugee desperate to seek asylum in the United States. His dramatic arrest is captured on live television, and Camacho initially basks in the adulation of his fellow officers, only to find himself ostracised within the Miami Cuban American community who consider that he has turned his back on his roots. Tensions mount and Nestor's life lurches from one crisis to the next.Though he has a potentially very rich seam to mine, Wolfe never manages to secure the reader's empathy. In [The Bonfire of the Vanities] Sherman McCoy inhabits a world utterly removed from that of most of the readers, and he is an arrogant and spoiled character, but Wolfe was able to make the reader feel his frustration and disbelief as the campaign for "justice" take hold and the District Attorney, with a view to impending re-election campaign, allows himself to be carried along with flow. In this novel I found that I really wasn't interested in Nestor's plight.