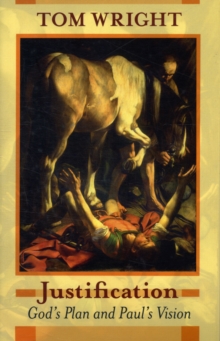 Justification : God's Plan and Paul's Vision
Paperback
Description
Offers a magisterial response to the spate of criticism directed at the author for his theology of justification.
Information
Format: Paperback
Pages: 256 pages
Publisher: SPCK Publishing
Publication Date: 01/02/2009
Category: Christian theology
ISBN: 9780281060900
Free Home Delivery
on all orders
Pick up orders
from local bookshops
Reviews
Showing 1 - 3 of 3 reviews.
Review by brianghedges
16/06/2015
N. T. Wright's response to John Piper's critique (The Future of Justification) is his most thorough book on Paul yet. It is, in many ways, a masterful unpacking of Paul's thought. Wright shows how Paul's theology of justification is grounded in God's covenant with Abraham and plan to bring redemption to the world through Israel, and ultimately through Jesus. He explores how justification is informed by Jewish law-court imagery, eschatology, and Christology. Wright's unpacking of the narrative substructure to Paul's thought is, at times, brilliant. And after reading this book, I think that Wright and Piper are actually much closer in their thinking than either one of them may think.However, confusion and misunderstanding continues, and this due not least of all, to Wright himself. It's unfortunate that he sometimes caricatures positions that he rejects out of hand and misconstrues the thought and theology of his opponents. (Can anyone who knows John Piper seriously believe that there is no place for the Holy Spirit in his theology?!) Wright's reasons for rejecting imputation are not fully convincing. I still suspect that he takes some wrong steps in his exegesis at some crucial points. And his articulation of how justification by faith in the present relates to future judgment according to works is still a little fuzzy and subject to misunderstanding.With that said, I think Wright's unpacking of the believer's union with Christ comes fairly close to achieving what imputation achieves for Piper and traditional Reformed theology. Not all his critics agree, but Wright should at least be carefully read and listened to before stones are cast.I've heard Don Carson say before that Wright's problem is in backgrounding what should be in the foreground and foregrounding what should be in the background. I think I understand that critique. But after reading both Wright and Piper (and Waters, and Westerholm, and Carson, and Moo!) I am wanting to see a synthesis of the different insights and strengths these pastors and scholars bring to the table.I recommend this book to those who are following the conversation on the New Perspective on Paul. If you've read Piper, definitely read Wright. But in my opinion, it would be better to read neither than to read only one side of the argument. 3 1/2 stars.
Review by othurtle
16/06/2015
I am not sure having read the book that I need to worry too much about the "New Perspective" on Paul; it seems that the main thrust of Christian teaching remains reliable. I have not read Piper, the book he is responding to, so why read this book? The exposition of Paul's arguments in his various letters, especially of course Romans is impressive (I mean that both for the explanation and for Paul!) The writing is lucid, vivid with helpful illustrations and leaves me with a better understanding of what seems to have been Paul's aims and motivation. Less relevant to me than Surprised by hope but it begins to answer why the Cross did not feature more prominently in that book.
Review by MarthaJeanne
16/06/2015
A good starting place for learning part of Wright's opinions about Paul while we wait for the next volume of 'Christian origins and the question of God' to come out.This is more difficult reading than usual for a boook listed as Tom Wright. I got a lot out of it. I will get a lot more out of Romans and the other Pauline letters the next time I read them. But I should also come back to this in a few months and try again to get all of what Wright is trying to say. As usual, what I understand of Wright makes a lot of sense.