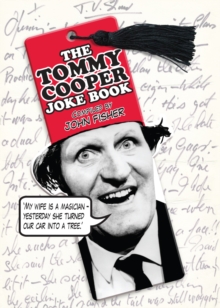 The Tommy Cooper Joke Book : Compiled by John Fisher
Hardback
Description
You've heard of the lone ranger? I'm his brother hydrangea!The other night I dreamt I was eating a ten-pound marshmallow.
When I woke up the pillow had gone!My wife just phoned me.
She said, 'I've got water in the carburettor.' I said, 'Where's the car?' She said, 'In the river.'I said to the doctor, 'Doctor, I'm losing all sense of direction.
What should I do?' He said, 'Get lost.'I've got a dog, you know.
I have. He's a one-man dog. He only bites me. Tommy Cooper died on stage at Her Majesty's Theatre, London, twenty-five years ago in April 1984 and is still revered today as probably the greatest comedian of the second half of the 20th century.
More than just a comedian, Tommy Cooper was a born entertainer.
Working in a golden age of British comedy, Cooper stood - literally - head and shoulders above the crowd, and had a magical talent for humour that defied description.
With a love of laughter stemming from a magic performance gone wrong when he was in his teens, Cooper enlisted in the army in 1939 and began to perfect his comic timing on his army colleagues in the Egyptian desert.
The man with the fez was born.
Information
Format: Hardback
Pages: 176 pages
Publisher: Cornerstone
Publication Date: 01/10/2009
Category: Jokes & riddles
ISBN: 9781848091986
Free Home Delivery
on all orders
Pick up orders
from local bookshops