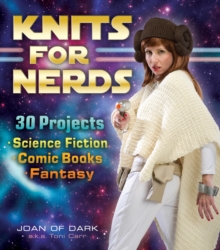 Knits for Nerds : 30 Projects - Science Fiction, Comic Books, Fantasy
Paperback
Description
It's no secret that knitters can be a bit nerdy-the hobby itself is so mathematical and quirky.
In Knits for Nerds, Toni Carr, offers up projects based on all manner of books, movies, and TV nerds love, including: A sexy Star Trekmini-dress uniform; Adorable Dr Who-inspired robot doll; Hobbit feet slippers; A laptop bag that doubles as a chessboard; A Joss Whedon's Fireflyscarf and some socks to go with your Jayne Cobb Hat; Baby beanie with elf ears; Big Bang Theory-inspired his and hers sweater vests; Padme's battle cape and hairstyles from Star Wars. The knitting webosphere is alive with evidence that knitters are sci-fi, fantasy, comics, and manga geeks!
For example: A quick search on etsy.com shows many nerd-inspired knitting projects, from Star Trek characters, to sci-fi inspired yarn, Batgirl gloves, and more; Doctor Whofans on Ravelry meet on in Who Knits?with around 5,000 members; Geekcrafts.com profiles any and all crafts that relate to geeks.
Yet no book of knits has catered to this community-or the many people that take costuming for sci-fi conventions with utmost seriousness and DIY passion.
Information
Format: Paperback
Pages: 144 pages
Publisher: Andrews McMeel Publishing
Publication Date: 16/02/2012
Category: Knitting & crochet
ISBN: 9781449407919
Free Home Delivery
on all orders
Pick up orders
from local bookshops
Reviews
Showing 1 - 5 of 5 reviews.
Review by SDPogue
16/06/2015
I have to admit – I can't knit. I want to but it's just not a skill I possess. That doesn't stop me from looking at knitting books and dreaming. Most books are just variations of the same patterns. This one, however, caught my eye with the possibility of something so outrages that I would just have to learn to knit.I was slightly disappointed in the patterns because they really did come off fairly normal but this book is so fun I didn't care. It's the perfect book. Toni Carr is witty and thoroughly entertaining. Her patterns tug at the heart of all those who just love science fiction. A good portion of the patterns are typical but have some root in a science fiction character – for example there are patterns for the signature sweater vests from the characters in Big Bang Theory.The patterns run from the beautiful to the silly. There is something for everyone in this book. I just need to find someone to knit for me.
Review by lotter
16/06/2015
My daughter wanted to learn to knit and thought this was way more fun than just making squares. Some of the projects are quite difficult but the instructions were clear and fairly easy to follow. A few of the projects weren't as cool looking as they sounded like they should be, but we will all be wearing hobbit feet slippers in my house this winter.
Review by jbarr5
16/06/2015
Knits for Nerds 30 Projects: Science Fiction, Comic Books, Fantasy by Joan of Dark a.k.a Toni CarrISBN: 9781449407919Even though there are categories: Science Fiction, Comic Books, Fantasy, if you change the colors to something mild the patterns can be adapted for everyday use.There are some very easy patterns to knit, some are charted.Cute: baby elf hat with horns is adorable and could be used on a daily basis.Hand coverings in different varying lengths and patterns make it so the easy to advanced knitter wouldn't be lost making these.Head coverings and cape/wraps are also a high priority.Great for make believe or a child dressing up or for a Halloween costume.Let your imagination go wild and use the patterns in the book to make a whole new world.Glossary with pictures of how to do some techniques is at the end, very helpful and knowledgeable info there.
Review by kiaras
16/06/2015
The introduction to this book says, "[T]hese patterns have something for every kind of nerd!" and that's no lie. This book has knittables from Star Trek to Firefly, from American Gods to Tank Girl - and, of course, The Lord of the Rings.<br/><br/>Honestly, all they had to say was "Tank Girl," and I was sold. Sadly, this is one of the patterns that is "inspired" by the original instead of being built straight from it. That will not, however, stop me from knitting them… just as soon as I finish a couple of other projects!<br/><br/>In fact, there are several things I'd like to complete from this: the "Secret Beaded Bag," based on Hermione's magic purse from the last Harry Potter films; the "Aim to Misbehave Brown Jacket" is gorgeous, even while I'm not a Firefly fan; the "Creepy Bunny" is both cute and creepy, as promised; and – of course! – the Tank Girl socks! In this book, I see lots of projects to make for friends as gifts, and several more I'd like to have all for my own!<br/><br/>The only project I'm not interested in making would be the hobbit slippers. Because knitting up something that looks like big hairy feet? Ew. Just – ew. As funny as the idea is, I can't imagine a single person who would want that. At least, that's what I keep repeating to myself. (I think the thing really freaking me out is that I probably DO know people who would be excited to receive a pair of these and that's just… It freaks me out, okay?)<br/><br/>In short: Awesome book. Great patterns. Useful tool in the arsenal of all nerdy knitters out there. And fun, too. Which is really the whole point of the thing, isn't it?
Review by SparklePonies
16/06/2015
Knitting is out of my comfort zone. I dont do handy crafts. I thought at least reading about knitting would be a good test of my patience and ability to learn about a totally new topic. Knitting is like a foreign language. I had not idea what all the terms meant and I had to return to the glossary again and again. The author stated that some of the projects were for beginners but they all looked impossible to me. I did like the trivia questions at the end of each section. I got most of the answer correct.