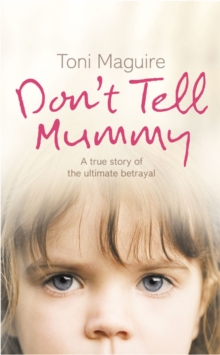 Don't Tell Mummy : A True Story of the Ultimate Betrayal
Paperback
Description
This heart-wrenching memoir from Toni Maguire tells the deeply moving story of an idyllic childhood that masked a terrible truth.
Underneath her mother's gentility and her father's roguish charm lay horrifying secrets, which eventually led to their only child's near destruction. The first time her father made an improper advance on Toni, she was six years old.
Her father warned her not to tell her mother, or anyone else, because they would blame her and wouldn't love her any more.
It had to remain `our secret.' When she finally built up the courage to tell her mother what had happened, she was told never to speak of the matter again.
With no one to turn to, isolated and alone in rural Ireland, the abuse continued unhindered. At fourteen Toni fell pregnant by her father, and when her state was discovered she was made to have a late abortion which almost killed her.
The truth of her childhood could no longer be kept hidden but, just as her father predicted, Toni found herself judged and rejected by her family, teachers and friends.
The blame and anger she was treated with only worsened when her father was sent to prison as a result of his actions.
This is the compelling story of her struggle to put the ghost of her childhood to rest, and emerge ultimately triumphant.
Information
Format: Paperback
Pages: 352 pages
Publisher: HarperCollins Publishers
Publication Date: 05/03/2007
Category: Autobiography: general
ISBN: 9780007223763
Free Home Delivery
on all orders
Pick up orders
from local bookshops
Reviews
Showing 1 - 2 of 2 reviews.
Review by Bogelskeren
16/06/2015
This book I really find hard to rate and review. There's no doubt in my mind that TM has been through hell but in my view the book doesn't do the terror she's experience justice.To me the book has got way too many descriptions of clothes and external looks which, I've to admit, made me put the book down a couple of times before deciding to finish it eventhough
Review by Marlene-NL
16/06/2015
Just finished this book and even though I knew better,I kept on hoping her parents would be punished.Very well written, what a terrible story. It made me so angry. All those idiots that blamed the child because she had not told and those idiots in the hospital asking her if she had enjoyed the sex with her parents. I wanted to hit them.<br/>After thinking about Toni and how she acted especially with her mom, even as an adult trying to get her mom to love her and doing everything for her, it made me angry but hey, I can understand it. I know I always try to please my mother even though she also did some not so nice things to me making me a very uncertain person being an adult. It is so hard to change that pattern.<br/><br/>Great book.