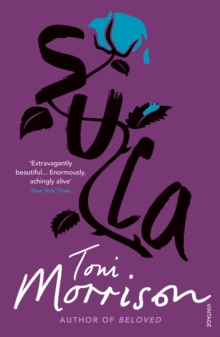 Description
BY THE NOBEL PRIZE-WINNING AUTHOR OF BELOVEDAs young girls, Nel and Sula shared each other's secrets and dreams in the poor black mid-West of their childhood.
Then Sula ran away to live her dreams and Nel got married.
Ten years later Sula returns and no one, least of all Nel, trusts her.
Sula is a story of fear - the fear that traps us, justifying itself through perpetual myth and legend.
Cast as a witch by the people who resent her strength, Sula is a woman of uncompromising power, a wayward force who challenges the smallness of a world that tries to hold her down. Winner of the PEN/Saul Bellow award for achievement in American fiction
Information
Format: Paperback
Pages: 208 pages
Publisher: Vintage Publishing
Publication Date: 01/05/1998
ISBN: 9780099760016
Free Home Delivery
on all orders
Pick up orders
from local bookshops
Reviews
Showing 1 - 4 of 4 reviews.
Review by Jaylabelle
16/06/2015
A novel about the nuancing contrasts of right and wrong... life's ambiguity, and the beauty, power and horror of womanhood.
Review by kale.dyer
16/06/2015
Quite enjoyed this one. Read it at the recommendation of my sister. Found the stories interesting in their examination of the multiple viewpoints, I am aware there is much more analysis possible of this book.
Review by Berly
16/06/2015
This story spans 40 some odd years and the friendship between two black girls growing up in the Bottom, which ironically is the uplands of of Ohio. Toni Morrison's prose is deep, dark and hauntingly beautiful, as always. Despite the spare story (172 pages) and not feeling particularly drawn to either main character, I still think this one will remain with me for a long time. I love/hate it. Take a peek:"Those with husbands had folded themselves into starched coffins, their sides bursting with other people's skinned dreams and bony regrets. Those without men were like sour-tipped needles featuring one constant empty eye. Those with men had had the sweetness sucked from their breath by ovens and steam kettles. Their children were like distant but exposed wounds whose aches were no less intimate because separate from their flesh. They had looked at the world and back at their children, back at the world and back again at their children, and Sula knew that one clear round eye was all that kept the knife away from the throat's curve." (p.122)Wow! Can this woman write. But so darkly beautiful.
Review by Ireadthereforeiam
16/06/2015
Wow, this lady can write! Some of her sentences I had to read again in some sort of double take, as if I couldn't really believe how wonderful they were the first time. But reading them again just reinforced it. Some of it was too wonderful though, and it went right over my head. In this case, I just took the feeling from the words, which was also there loud and clear. Sula, is I suppose, an anti hero. She is suspiciously confident and challenging for a woman of her time. She makes some surprising decisions and leaves us wondering about her character. Her best and lifelong friend is Nel, and they go through a lot together in their early 20thC rural town. In this novel, I liked the writing more than the plot. And because you cant have a great book without both, I was left feeling a tiny bit disappointed. Even so I was left with a lovely feeling that I now know something that I didn't know. So that makes it very well worth the effort.