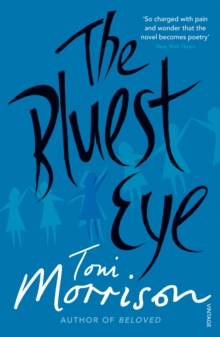 Description
BY THE NOBEL PRIZE-WINNING AUTHOR OF BELOVEDToni Morrison's debut novel immerses us in the tragic, torn lives of a poor black family - Pauline, Cholly, Sam and Pecola - in post-Depression 1940s Ohio.
Unlovely and unloved, Pecola prays each night for blue eyes like those of her privileged white schoolfellows.
At once intimate and expansive, unsparing in its truth-telling, The Bluest Eye shows how the past savagely defines the present. Winner of the PEN/Saul Bellow award for achievement in American fiction
Information
Format: Paperback
Pages: 240 pages
Publisher: Vintage Publishing
Publication Date: 01/03/1999
ISBN: 9780099759911
Free Home Delivery
on all orders
Pick up orders
from local bookshops
Reviews
Showing 1 - 5 of 6 reviews.
Previous | Next
Review by HeatherLee
16/06/2015
I believe that Toni Morrison is one of the most challenging authors America has ever produced. She refuses to ever talk down to her audience, but rather, challenges us to aspire to higher levels of meaning by writing challenging literature of the highest quality. "The Bluest Eye" falls into that category. As her first novel, Morrison herself suggests that at the time of her writing this, she was not advanced enough to handle the language, and therefore, finds it somewhat clumsy. The book I read was incredibly rich and deep, inspirational and chilling. We find one narrator of the story, a little girl named Claudia, retelling the events surrounding another black girl in her small Ohio town, and the horrible things that Pecola had to endure. Described by nearly every character in the novel as "ugly", Pecola's only wish is to have blue eyes, so that she can attain the societal expectation of "attractiveness". Pecola comes from a warped, unsupportive family, which thereby shapes her viewpoint and feelings about her own life. One thing Morrison does so effectively in her novels is to switch narrators whenever she sees fit. At times, Claudia tells us the story; at others, a third person narrator allows us to soar above the story and get more important information that a little girl may not be privvy too. At at times, we even learn about the events of the story through women who merely gossip the story. The effect allows us, the reader, to garner more informaton, some of it in personal ways, to allow us a grander sense of this story. Morrison's literature, in every sense of the word, challenges the reader at every turn. This is not a book to skim through. Because of her writing, and her writing style, she is able to make grand stories out of the most ordinary people; to give voice to those characters in literature most often overlooked or marginalized in our culture. Morrison must keep writing to allow those voices to ring clear, and add to the cacophany of voices that make America as strong as it is.
Review by denina
16/06/2015
A sad and a beautiful tale about a young black girl struggling in a world where a blonde barbie-doll with blue eyes in the standard idea of beauty.
Review by edwinbcn
10/11/2015
The bluest eye belongs to the more readable novels of Toni Morrison. It is less experimental, and written in a more traditional style, accessible to broad readership. It is essentially a rather sad story of a coloured girl, growing up in such dire circumstances that she denies her identity. The longing for blue eyes is a pars pro toto, it is a longing to be different, to escape from her miserable livelihood. A sad and touching story.
Review by mich_yms
16/06/2015
The Bluest Eye is a story about three girls: Pecola, Frieda and Claudia. Or maybe it's a story about just one girl: Pecola. It's a story about how one girl's life is completely trashed and ruined. About how her self-worth is dictated by people who have nothing to do with her. About how her sense of what beauty truly means is reduced to wanting blue eyes.This book had my heart clutching, and my hands rolled into tight balls. There was a lot of emotion swirling around, painful emotions that wouldn't go away even after I closed the book. There was anger and confusion folded in together. There were people I wanted to hate, but just couldn't bring myself to hate them, and I don't understand why.Most of all, I think The Bluest Eye asked questions. It prompted me to ask questions. Why do we have a preconception of what beauty means? Why do we feel that we need power to survive? How do we lose our innocence as children? Why do we draw thick lines between us, always looking for differences, but never our similarities? Why the need to claim one as the superior?I found it very emotionally gripping.
Review by Smiler69
16/06/2015
Though Toni Morrison may have expressed dissatisfaction many years after the original publication in 1970 of this, her first novel, claiming in an afterword that <i>"It required a sophistication unavailable to me",</i> the very opposite though came to me as I was listening to her own excellent narration of the audiobook version. While even I managed to detect what others often claim to see and I do not, i.e. "problems with the writing" with varying voices telling the story, and in this case sometimes to confusing effect, the level of sophistication of the novel itself, of the ideas it presents, of the way in which the characters are drawn and interact, of the overall construction, and of course the language and beauty of the writing made me appreciate this novel best out of the three by Morrison I've read so far (the other two being <i>Beloved</i> and <i>A Mercy</i>). The introduction begins with Morrison's own interpretation of a 'Dick and Jane'-type story: <i>"Here is the house. It is green and white. It has a red door. It is very pretty . . . Here comes a friend. The friend will play with Jane. They will play a good game. Play, Jane, play."</i> This quaint little bit of school primer, with it's image of perfect simplicity and happiness, and not least of which, white children Dick and Jane who 'play and play', and which forms a motif throughout the novel, comes as an ominous sign that things will be far from simple fun and games for Pecola, the novel's 11-year-old black heroine, who is described as an ugly girl and who's greatest wish in life, in spite of the abject poverty she lives in, and the miserable family life, and the poor treatment she receives from nearly everybody she comes in contact with, is to have the 'bluest eyes'.The first words of the novel may give us the whole story; it starts with the conclusion as it were, but as one coming freshly to this novel, not having read anything else beyond a short descriptive blurb about the subject matter, their meaning, was lost on me, though their poetry was not:<i>"Quiet as it's kept, there were no marigolds in the fall of 1941. We thought, at the time, that it was because Pecola was having her father's baby that the marigolds did not grow. A little examination and much less melancholy would have proved to us that our seeds were not the only ones that did not sprout; nobody's did. Not even the gardens fronting the lake showed marigolds that year. But so deeply concerned were we with the health and safe delivery of Pecola's baby we could think of nothing but our own magic: if we planted the seeds, and said the right words over them, they would blossom, and everything would be alright. It was a long time before my sister and I admitted to ourselves that no green was going to spring from our seeds. Once we knew, our guilt was relieved only by fights and mutual accusations about who was to blame. For years I thought my sister was right: it was my fault. I had planted them too far down in the earth. It never occured to either one of us that the earth itself might have been unyielding. We had dropped our seeds in our own little plot of black dirt just as Pecola's father had dropped his seeds in his own plot of black dirt. Our innocence and faith were no more productive than his lust or despair. What is clear now is that of all of that hope, fear, lust, love, and grief, nothing remains but Pecola and the unyielding earth. Cholly Breedlove is dead; our innocence too. The seeds shriveled and died; her baby too. There is really nothing more to say--except why. But since </i>why<i> is difficult to handle, one must take refuge in </i>how<i>."</i>The voices of various characters involved in Pecola's life from the little girls who's home Pecola is taken into, to her own mother and father, take over the narrative and give their points of view; describing the histories of their own lives, they give us a better understanding of the <i>how</i> things came to be the way they end up for poor Pecola. One of the great strengths of the novel is that although we know it is a story which will end badly, and although we also know that the protagonists are likely to have harsh realities to contend with, it never drags us down into bleakness and despair. Perhaps this has something to do with the fact that Morrison's writing is never sentimental, but rather observant of the least detail that real life presents to us, and of how even when things are at their worst, there is always something interesting going on. We know of course that [The Bluest Eye] is a powerful commentary on racial hatred, but I would venture to guess that one of the reasons this novel has become a classic is because it carries a universal message. In describing how the beauty myth operates, she describes how humanity as a whole has sought escape from the harshness and vastly unfair playground that is life into this impossible ideal, which is bound to disappoint: <i>"Along with the idea of romantic love, [Pecola] was introduced to another—physical beauty. Probably the most destructive ideas in the history of human thought. Both originated in envy, thrived in insecurity, and ended in disillusion."</i>