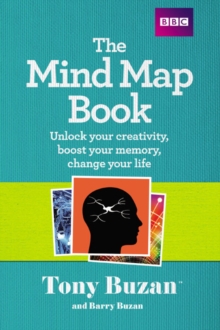 The Mind Map Book : Unlock Your Creativity, Boost Your Memory, Change Your Life
Paperback
Description
Tony Buzan is the inventor of Mind Maps and The Mind Map Book is the original and best book on how to use them effectively in your own life.
Often referred to as � the Swiss army knife for the brain� , Mind Maps are a ground-breaking, note-taking technique that have already revolutionised the lives of many millions of people around the world and taken the educational and business world by storm.
This practical full-colour book will transform the way you plan and organise your life.
At school they� re perfect for taking notes, revising for exams and planning essays; at work they� re great for improving your organisational skills, preparing and running meetings and planning strategy; and in your personal life, no matter what you� re trying to plan, be it a wedding, a garden or even your own future � Mind Maps can help.
Discover how Mind Maps can boost your memory, unlock your creativity, improve your concentration, revolutionise how you think and learn.
Discover today how Mind Maps can change your life.
Free Home Delivery
on all orders
Pick up orders
from local bookshops
Reviews
Showing 1 - 1 of 1 reviews.
Review by ylferif
16/06/2015
In The Mind Map Book, Tony and Barry Buzan argue that our minds have infinite potential which is being stifled by common linear, verbal outlining and note-taking techniques. Enter mind maps, specialized diagrams which take advantage of the brain's natural desire to associate ideas and to do so with colors and images rather than just words. According to the subtitle, mind mapping will "unlock your creativity, boost your memory and change your life". The Buzans do a good job of laying out the general principles of mind mapping and provide lots of colorful examples. I have dutifully purchased colored pens and am diagramming everything from to-do lists to books to PowerPoint presentations to this book review, but have yet to feel that I am substantially more creative than I was previously, and life goes on as ever. Without someone to review and correct my methodology, it's hard to know if I'm giving mind mapping a fair trial.Still, The Mind Map Book is an easy to follow introduction to an engaging approach to increased productivity, creativity and learning.