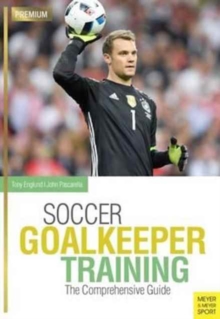 Soccer Goalkeeping Training : The Comprehensive Guide
Paperback / softback
Description
In Soccer Goalkeeper Training the authors explain and show through detailed photos and coaching points the physical and technical skills required for novice goalkeepers to improve their current level with easy to follow progressions.
Another topic is how to make decisions in tactical situations on the soccer field, for example using communication as a tool for organizing the field player of one's team.
The authors also delve into the more advanced and scientific areas of periodization and mental preparation used by the most accomplished goalkeepers in Major League Soccer and the US National Team to achieve ultimate success at the highest levels of the game.
Hereby, some psychological aspects covered by the book are the relationship between goalkeepers and their coaches and giving feedback.
Also, readers will find a training guide which is divided into exercises by various themes.
Whether you are an aspiring young goalkeeper or a more advanced collegiate player, regardless of the level of goalkeeper you currently coach, Soccer Goalkeeper Training will have something to help bring out the best in you and your most important player.
Information
Format: Paperback / softback
Pages: 250 pages
Publisher: Meyer & Meyer Sport (UK) Ltd
Publication Date: 28/05/2017
Category: Sports training & coaching
ISBN: 9781782551072