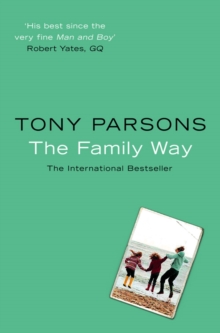 Description
It should be the most natural thing in the world. But in Tony Parsons' latest bestseller, three couples discover that Mother Nature can be one hell of a bitch.Paulo loves Jessica.
He thinks that together they are complete - a family of two.But Jessica can't be happy until she has a baby, and the baby stubbornly refuses to come.
Can a man and a woman ever really be a family of two?Megan doesn't love her boyriend anymore.
After a one-night stand with an Australian beach bum, she finds that even a trainee doctor can slip up on the family planning.Should you bring a child into the world if you don't love its father?Cat loves her life.
After bringing up her two youngest sisters, all she craves is freedom.
Her older boyfriend has done the family thing before and is in no rush to do it all again.
But can a modern woman really find true happiness without ever being in the family way?Three sisters.
Three couples. Two pregnancies. Six men and women struggling with love, sex, fertility and the meaning of family.And one more bitter-sweet bestseller from the author of MAN AND BOY.
Information
Format: Paperback
Pages: 400 pages
Publisher: HarperCollins Publishers
Publication Date: 01/03/2005
ISBN: 9780007151240
Free Home Delivery
on all orders
Pick up orders
from local bookshops
Reviews
Showing 1 - 3 of 3 reviews.
Review by coolmama
16/06/2015
Usually Tony Parson's light novel about 3 sisters - Megan, Jessica and Cat, and how their mother abadoned them when they were younger, and now, they are each expecting children and how it affects them.
Review by LyzzyBee
16/06/2015
Acquired via BookCrossing 10 Jul 2010 - donated to BookCrossing by the Moseley LionsLike a Richard Curtis film, this book about three sisters and their various maternity issues rings through all the possible changes and tugs at all the possible heartstrings, while remaining just that bit too calculating - not exactly heartless, but a bit cold-hearted. But it passed the journey home from our holiday well enough!
Review by jayne_charles
16/06/2015
No self respecting charity shop would be without at least one Tony Parsons novel, which means that even if nothing else on their shelf grabs me, I can be assured of an enjoyable read, even if it comes with a slightly guilty feeling as when one eats a donut while on a diet.This was his best so far, as far as I'm concerned – hard-wired into the emotional circuitry of its characters, this novel explores issues surrounding pregnancy and parenthood. The main characters are all female which means delving into some subject matter that would have the average bloke diving for cover in the nearest conversation about football, but Tony Parsons is not to be put off by such trifles. And I can say from personal experience that his portrayal of a particular pregnancy complication and resulting medical procedure is highly accurate.There are blokes in the novel too – and given that some of them engage in deep and meaningful conversations about lurrrve and actually kiss eachother, the author has the good sense to make them Italian. Let's face it, British men don't do that. There were a few stereotypes on view, though- not least the feckless dole merchants on the Sunny View Estate (where nobody ventured unless "buying drugs, selling drugs or making a concerned documentary" (!!)). They were the sort of people the liberal establishment insist don't exist while the Daily Mail insists they do. They are used to good effect here, though I was never too sure whether I should be feeling indignant about the demonization of the working classes.The only thing that annoyed me – as with all his other novels – was the tendency towards single line paragraphs used to emphasise some point or other. Only the fact they weren't in bold type could distinguish them from tabloid editorials. It was like a constant reminder that i wasn't reading serious literature. But on the other hand, this was never as predictable as it threatened to be, and for its humour alone it was worth a read. The laughs kept coming. I loved the way Kirk's parents, who stayed together despite constantly rowing, "made you believe in the sanctity of divorce". A book that was always a pleasure to take up, never easy to put down. You can't ask for much more.