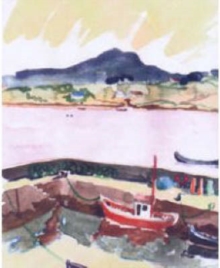 The Universe on a Bicycle
Paperback
Description
At 10.55 am, the time is noted in my sketchbook, we have a dog attack.
We are cycling along quietly when suddenly we are nearly savaged.
It's a tiny little beast about ten inches long. One of those Yorkshire Terrier type dogs, all fluff and teeth...You can see it think it's the Red Baron; diving out of the sun, straight for our ankles...We imagine it swaggering back to its look - out point thinking, 'Frightened those dozy bastards...Pair of scruffy looking, bare legged, silly old farts in daft helmets.' Two old friends from Trinity College, Dublin - one a retired accountant living in Wiltshire, the other a professor of salmon biology in Newfoundland - decide to ride their bikes round the coast of Ireland.
Fifty years before, they had rowed together in the university crew; now, more decrepit, they spend their days meandering through the Irish countryside.
As they travel they talk, and as they talk like only old friends can, their conversations reflect their own unique experience - the distillation of two lives, spent in separate continents, concerned with different priorities, yet unified by their past. Their saga, with many picaresque adventures along the way, evolves into something much more.
Talking together about what they find - the plight of the salmon, the troubles in Ulster, their growing sense of the natural world being destroyed by the inability of philosophy to keep abreast with the constant flux of scientific discovery - they stumble upon a theory which could solve what has baffled everybody since Darwin: How morality evolved?
Dual Nature Theory explains just that! It also accounts for evil and if properly understood, might allow human beings, finally, to cooperate in solving many of the ecological, political and economic problems which challenge the human race.
Information
Format: Paperback
Pages: 228 pages, illustrated
Publisher: Elliott & Thompson Limited
Publication Date: 01/09/2006
Category: Travel writing
ISBN: 9781904027515
Free Home Delivery
on all orders
Pick up orders
from local bookshops