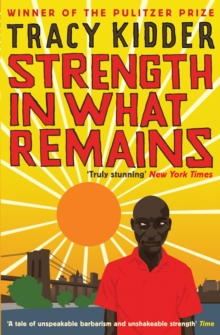 Strength In What Remains
Paperback
Description
Strength in What Remains recounts the remarkable experiences of Deo, a medical student from Burundi who narrowly survived two genocides, first in his own country, then Rwanda.
Through sheer fortitude, and the astonishing kindness of strangers, Deo fled to New York.
But his ordeal was far from over. He endured daily discrimination in his menial job, and left his first home - a Harlem tenement building - for the greater safety of sleeping rough in Central Park.
Again the generosity of those he encountered prevailed.
Deo was introduced to a couple who would in time virtually adopt him, and in the coming years he graduated from Colombia, obtained US citizenship and returned to Burundi to pursue his dream of founding a clinic.
In this powerful book, Tracy Kidder brings to light the universality of the human condition through Deo's extraordinary story of suffering and survival.
Information
Format: Paperback
Pages: 304 pages
Publisher: Profile Books Ltd
Publication Date: 01/02/2010
ISBN: 9781861978578
Free Home Delivery
on all orders
Pick up orders
from local bookshops
Reviews
Showing 1 - 1 of 1 reviews.
Review by VivienneR
27/08/2015
Difficulties for immigrants are abundant, but for Deogratias Niyizonkiza, a medical student who arrived in New York from the horrors of Burundi and Rwanda in the 1990s, they are magnified to what seems insurmountable heights. The situation was further complicated by language. Deo spoke French, his English learned from a phrase book. In his first job delivering groceries, he politely said "Hi" to customers and wondered why the response was strange. It wasn't until much later he discovered his French pronunciation expressed the greeting as "Hee". Kidder opened the story in New York where the reader is shocked, but has some understanding of the situation Deo faced. Then, going back to earlier events of civil war and genocide in Burundi and Rwanda, we can see why this young man struggled so hard to get his life back on track. In places Deo's story was heart-breaking beyond words, both in America and in Africa. His perseverance and diligence is inspiring. Still, Kidder omits his reason for writing Deo's story. Is this an immigrant success story or an account of the harrowing events in Burundi and Rwanda? It appears to be neither one nor the other. By combining both, the impact is significantly diminished.This was an audiobook narrated by the author, the narration being the weakest part of the book. Unless an author has a good reading voice, it's advisable to hire a professional for the job.