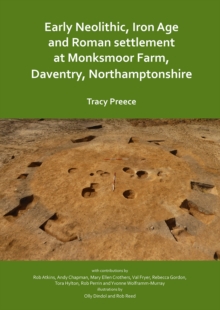 Early Neolithic, Iron Age and Roman settlement at Monksmoor Farm, Daventry, Northamptonshire
Paperback / softback
Description
Includes contributions from Rob Atkins, Andy Chapman, Mary Ellen Crothers, Val Fryer, Rebecca Gordon, Tora Hylton, Rob Perrin and Yvonne Wolframm-Murray; illustrations by Olly Dindol and Rob Reed.
MOLA (Museum of London Archaeology) has undertaken archaeological work at Monksmoor Farm on the north-eastern edge of Daventry in six different areas.
The earliest archaeological features lay in Area 6 at the southern end of the development area, where two pits were radiocarbon dated to the early Neolithic.
They contained a moderate assemblage of worked flints along with sherds of early Neolithic pottery.
In the middle Iron Age a settlement was established in the same location comprising a roundhouse and several enclosures.
Two other contemporary settlements are thought to have originated in the late Iron Age/ early 1st century BC and were identified in Areas 1 and 2 between c0.2km and 0.5km apart and 500m to the north of Area 6.
Area 1 contained evidence for a cluster of eight roundhouses with associated enclosures clearly showing sequential activity, while in Area 2, a large ditched enclosure defined as a Wootton Hill type, within which another roundhouse was present.
It is possible that the Wootton Hill type enclosure in particular may have a slighter earlier origin than the limited pottery assemblage suggests.
Sparse early Roman features were also found in Areas 3, 4 and 5.
This settlement continued in use through the later 1st to 2nd century AD.
During the early Roman period the settlement in Area 6 was greatly expanded with large rectilinear ditched enclosures along with smaller enclosures and paddocks being established on either side of a routeway indicating movement of livestock was important.
Information
Format: Paperback / softback
Pages: 94 pages, 53 figures, 27 tables (36 plates presented in full colour)
Publisher: Archaeopress
Publication Date: 30/04/2019
Category: Prehistoric archaeology
ISBN: 9781789692105
Free Home Delivery
on all orders
Pick up orders
from local bookshops