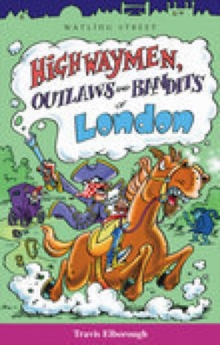 Highwaymen, Outlaws and Bandits of London
Paperback / softback
Description
Do you ever hear adults talking about the good old days, when the streets of London were safe?
Well, for most of its history, London's streets have probably been among the most dangerous in the world.
In the good old days you could hardly go out of your 30-bedroom house without a highwayman demanding your money or your life.
In this book, discover the truth about Dick Turpin; how to be a successful highwaymen; and which king liked to dress up as a bandit.
Read about the larger-than-life characters who hoofed it on London's roads, including: the highwayman who swapped his horse for some ice skates; the handsome thief who became every lady's choice of robber; and a pipe-smoking lady called Moll.
Take yourself back to the days when Hyde Park was humming with highwaymen and a chap on a horse with a mask could make a dishonest living robbing from the rich.
Take yourself back to the days when the streets of London hummed with the hooves of highwaymen's horses and the melodic sound of "Stand and deliver!".
Information
Format: Paperback / softback
Pages: 96 pages, cartoons
Publisher: Flame Tree Publishing
Publication Date: 01/03/2004
Category: History
ISBN: 9781904153139