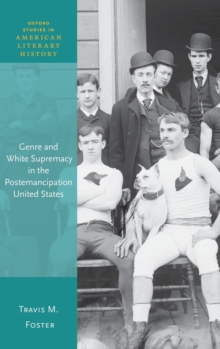 Genre and White Supremacy in the Postemancipation United States
Hardback
Description
How are we to comprehend, diagnose, and counter a system of racist subjugation so ordinary it has become utterly asymptomatic?
Challenging the prevailing literary critical inclination toward what makes texts exceptional or distinctive, Genre and White Supremacy in the Postemancipation United States underscores the urgent importance of genre for tracking conventionality as it enters into, constitutes, and reproduces ordinary life.
In the wake of emancipation's failed promise, two developments unfolded: white supremacy amassed new mechanisms and procedures for reproducing racial hierarchy; and black freedom developed new practices for collective expression and experimentation.
This new racial ordinary came into being through new literary and cultural genres-including campus novels, the Ladies' Home Journal, Civil War elegies, and gospel sermons.
Through the postemancipation interplay between aestheticconventions and social norms, genre became a major influence in how Americans understood their social and political affiliations, their citizenship, and their race. Travis M. Foster traces this thick history through four decades following the Civil War, equipping us to understand ordinary practices of resistance more fully and to resist ordinary procedures of subjugation more effectively.
In the process, he provides a model for how the study of popular genre can reinvigorate our methods for historicizing the everyday.
Also in the Oxford Studies in American Literary History series | View all