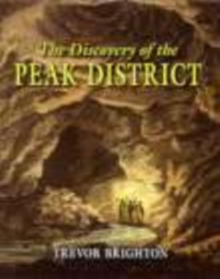 The Discovery of the Peak District
Hardback
Description
The Peak District was an area viewed with fear and foreboding for a thousand years.
Largely impenetrable to the traveller, it was called a 'howling wilderness' by Defoe.
Its few inhabitants were uncouth and the last troglodytes in England.
Their guttural dialect was barely intelligible and their fondness for drink was renowned and repellent.
Since Saxon times the Peak was associated with evil and the abode of the devil was located in the huge cave known as Peak's Arse.
By the Norman period this supernatural cavern was proclaimed one of the seven wonders of Europe.
Elizabethan topographers declared it the first of the Seven Wonders of the Peak - all of which were natural phenomena except for Chatsworth, built amid what Charles Cotton called ' the warts and pudenda of Nature'. A magical transformation occurred, almost overnight, when the romantic period viewed the Peak in quite a different light.
Its wonder was now its landscape - portrayed by artists and writers as picturesque, beautiful and sublime.
Rousseau, the 'prophet of Nature' came to live there.
Dovedale became Elysium and Monsal Dale Arcadia. Turnpike roads slowly opened up the Peak. Chatsworth was its showplace while Buxton strove to emulate Bath.
Scientists such as Erasmus Darwin came to study its geology and industrialists such as Wedgwood and Boulton its minerals.
Arkwright's cotton mills made it one of the 'cradles of the Industrial Revolution' and antiquaries and archaeologists explored its ancient remains. Ruskin foresaw the ruin of an idyllic world and raved against the coming of the railways and the curse of trippers.
Yet, despite the inevitable scars, the area retained much of its natural beauty and, surrounded by burgeoning urban industrial growth, it became a focal point for the outdoor movement of the 19th and 20th centuries.
Not surprisingly, by 1953 much of the Peak District was designated Britain's first National Park.
What is surprising is that this important new book is the first full and
Information
Format: Hardback
Pages: 128 pages
Publisher: The History Press Ltd
Publication Date: 04/10/2008
Category: Local history
ISBN: 9781860773143
Free Home Delivery
on all orders
Pick up orders
from local bookshops