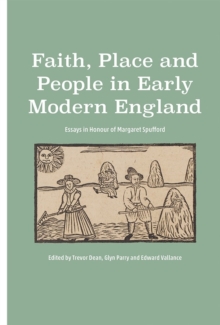 Faith, Place and People in Early Modern England - Essays in Honour of Margaret Spufford
Hardback
Description
This collection celebrates and evaluates the seminal research of Margaret Spufford, a leading historian of early modern English social and economic history.
Spufford played a crucial role in the broadening of English social and cultural history, shifting the focus away from the political and social elite in urban communities to the "other 98%" in local and rural areas and challenging assumptions about the limited intellectual worlds of rural people.
She was also an early historian of consumption patterns, whose work on the clothing trade remains the authoritative history of this industry and its consumers. Faith, Place and People in Early Modern England reassesses Spufford's contribution to the shape of historical study.
Each chapter rethinks a key aspect of her work on local and rural communities: the value of particular historical records; the interactions between religious conformists and dissenters; social and religious change; credit and finance; clothing and consumption.
Throughout, the contributors develop Spufford's model of integrating close community studies into a broader picture, while retaining an awareness of the singularity of individuals and localities.
In doing so, the book indicates how far "Spuffordian" approaches can continue to shape the future direction of early modern history . TREVOR DEAN is Professor of History at the University of Roehampton; GLYN PARRY is Professor of Early Modern History at the University of Roehampton; EDWARD VALLANCE is Professor of Early Modern British political culture at the University of Roehampton. Contributors: ADRIAN AILES, DAVID CRESSY, TREVOR DEAN, CATHERINE FERGUSON, HENRY FRENCH, STEVE HINDLE, CHRISTOPHER MARSH, GLYN PARRY, WILLIAM SHEILS, PETER SPUFFORD, DANAE TANKARD, EDWARD VALLANCE, PATRICIA WYLLIE
Information
Format: Hardback
Pages: 256 pages
Publisher: Boydell & Brewer Ltd
Publication Date: 13/03/2018
Category: British & Irish history
ISBN: 9781783272907